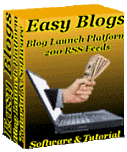 SBI-Templates for Easy Blogs. Below is a sampling of the many templates that have been developed for Site Build It websites.

What we did was take existing SBI templates from Solo Build It and convert them to an EasyBlogs template. The advantage of an EB template is the .xml file it creates. Whereby you can categorize, archive and post a full blown RSS blog, complete with .xml file.

Note Many of these templates have been deprecated. Meaning they are not available anymore. BWT recommends you contact us for older templates.
Easy Blogs and SBI Templates

Style

Name

Background Color

SBI-CSS-template
3 Column CSS for SBI (960px)
custom
Custom by BWT
Mini-Website - CSS 3 column 850px
custom
Requires AJ's template
Fluid Width up to 1035px
white
Requires AJ's template
Fixed Width 725px
white
Custom templates by BWT
custom

Blondswirl

Gold

Faces

Pink faces

Machines

Grey machines

Rosestucco

Background pattern has a stucco look with some rose colors.

Beigetones

Beige

Bluetones

Light Blue

Greentones

Light Green

Graytones

Light Gray

Rosetones

Rose Petal

Yellowtones

Bright Yellow

Angry Man

gold

Beer

brown

Lemon

bright yellow

Computer Man

blue/teal

Pad with pencil

gold

Party Balloons

party ribbons graphic

Pencils

gold

Question Man

grey

Rose and Heart

white

Stop Sign

lime green

What Was I Thinking

lime green and white

Windmill

light grey

Windsurf

light grey

Zen Garden
light beige

Blue Wool

light blue

Grass and Leaf

light green

Rocks

grey

Wood and Leaf

light brown

Marketing

white

Sports and Recreation

white

Health and Beauty

white

Lifestyles

white

Business and Finance

white

Food and Drink

white

Education

white

Entertainment

white

Book and Art

white

High Tech

white

SBI Additional themes

SBI Customized

white
Note: The templates are downloaded as a zip file to protect them from reformating. We have found this to be the best way to deliver the template. Inside the zip file is a file with a .tem file extension. This particular file type is used by many microsoft office application and could be susceptable to damage is used improperly. Because the .tem is included in the zip file ensures that you have a back-up copy just in case. If for any reason your file gets corrupted please contact me for a replacement. Tim
SBI Transition Templates - 3 Column Website Design
New iDesign3 SBI Css Templates Released
SBI New Template Website Design Site Build It Color Theme
SBI 3 Column Template for Easy Blogs