SBI Tools Build a Traffic Generating Web Business
May 5, 2010 16:14

Everything is all in Site Build It! All the tools, all in one place.
From researching raw, pre-website ideas to earning income from your site in five (or ten!) different ways, every tool, every strategy, every step is in SBI!. In short...
Comparing SBI! to any other "sitebuilder" like Dreamweaver or WordPress, is like comparing a fully tooled construction crew to a man with a hammer. As you will see, "everything" means "everything"... Read Full Article
New iDesign3 SBI Css Templates Released
May 12, 2010 11:02
Are you an SBIer? Then you probably know of the recently released CSS templates. If not you are in for a treat. These templates are so beautiful your eyes may pop out of your head.

I am proud to say my entry is #158. Numbering starts at 150 so that is pretty good. All together 120 templates made the final cut. What is so exciting about these templates is that they all use the same HTML code. This makes it easy to swap templates. Okay maybe not that simple because you need...
CSS style file
Header image
background image
footer image and
nav-background image.
These images and the css style file are unique to each template but all have the same file names. So you will probably want to rename them so as not to accidentally overwrite any existing files.

Extensive use of server side include files make these templates easy to do site-wide updates.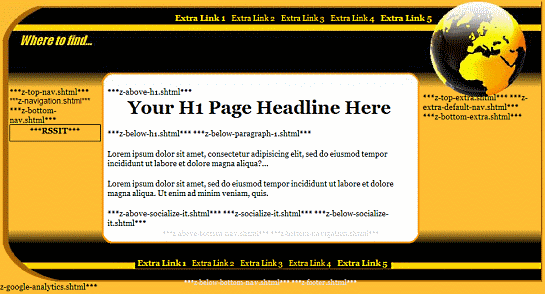 Do you have an existing template that you need upgraded? Don't want to do it yourself or don't have the experience contact me.
Learn more about SBI Css templates.