Timothy Koen And Best Website Tools
About Tim, he is the owner of Best Website Tools, LLC a small business. Tim is a chief webmaster and mobile app developer. Former electrical design engineer, video engineer and project manager. Tim now uses his skills and talent to operate his own business.

Tim started his professional career as a video enginer attaining the position of Senior Film Colorist. He then returned to college for a degree in Computer Aided Design and Drafting. Tim worked as an electrical design engineer for several years. In 1999 Tim became a project manager and worked in the Automotive Plant engineering field until 2014. When he put his full efforts into building his own business.

Tim was born in 1956, grew up in Detroit, Mi. has 2 college degrees and 30+ years of experience. Projects include television broadcasting, Auto plant design and successful website builder and mobile app developer.

He is an avid go-kart racer with many victories and top 5 finishes. He is a partner in TeamKoen Racing. Tim and team are currently based in Hazel Park, Mi.

His accomplishments include 20 minutes of SuperBowl commercial air time for his work as a film colorist. Estimated revenue generation is at $20 million. Tim designed the automotive paint shop electrical system for the Hummer2 vehicle assembly plant. Estimated worth: $2 million. Tim has developed numerous websites and mobile app. Priceless!

Tim has learned many things including electrical design, video engineering, project management and web design. Tim continues his education by learning mobile app development. He can be reached with the form below.
About Best Website Tools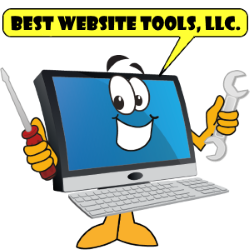 About www.best-website-tools.com (BWT) was started in 2007. In the beginning BWT was a hobby website. Slowily growing from a simple blog into a large website full of tools and tutorials. In 2018 Tim formed the company "Best Website Tools, LLC" to expand the business.

In 2015 Tim started building mobile apps. He created the website and mobile app builder 'miappmaker.com' (MAM)to pursue this part of his business. In 2018 BWT assumed management of Miappmaker.com and moved the tools and support to BWT.

The brand name 'Miappmaker' will continue on this website. The mobile app builder will be like a subsection of BWT but have it's own identity. MAM's tools and support also will continue. Hope you enjoy this website.

If you would like reach Tim please use the contact form below.