SBI default template - select the template that matches your look and feel or go wild (like I did) and create an all new look for your blog. If you like the template but not the background color it is easy to change in your template.
Beigetones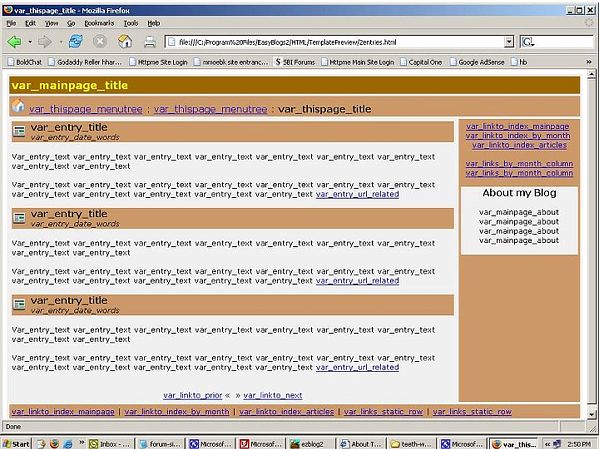 Bluetones
Greentones
Greytones
Rosetones
Yellowtones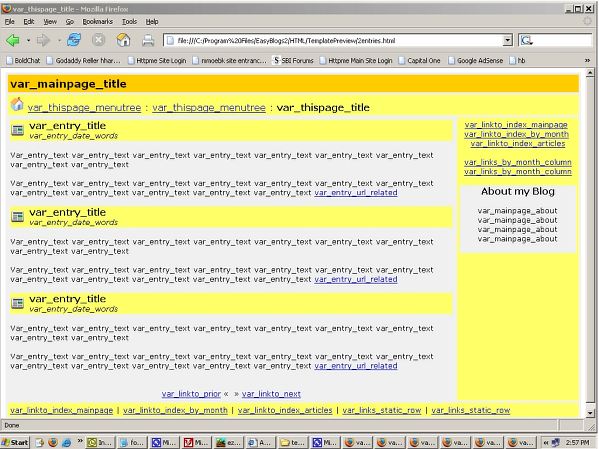 Inside SBI Default Templates
SBI Default Templates are probably misnamed but for some reason are named this way. A better name might be 2 column right templates.
Each template features color coordinated areas of content and headlines. The overall width of the template is set to width=100%. The main column is set to width=100%. The right column is set to width=200. Of course these parameters can be adjusted to fit your own design.
With a few simple modifications these template can be mobile responsive. (Ask for details in the contact form.) You will want to pay attention to your content size and placement for mobile devices.
These templates are inter-changeable. With the 'template selector' option in EasyBlogs swithing from from one template to another is easy. Simply select the template in the "Choose Template" tab and click save. When you generate pages every page will be built with the template of your choice.
Navigation is also automatic. All you have to worry about is inserting your original content in the 'Entry Editor.' EasyBlogs automatically generats your navigation according to category and date created. Each article, teaser and blog entery are alsso stored in the archive and category selected.
When you generate an article or blog entry the archive and category you created the entry also need to be updated on your website/blog.
Along with all the pages being generated for you Easy Blogs also generates an RSS/xml file. This all important file is used to feed blog and news services around the world.
Templates Only $5.95 each
Back To EasyBlog Template Selections