Looking for an easy to use mobile app editor?
Miappmaker editing tool just got even easier to use. The development team has separated the tool interfaces from the simulator. Adding elements to your app is simplfied. Now you place your cursor where you want your new element and click on the desired element. Presto the new element is placed in the page and the modifying tools are displayed.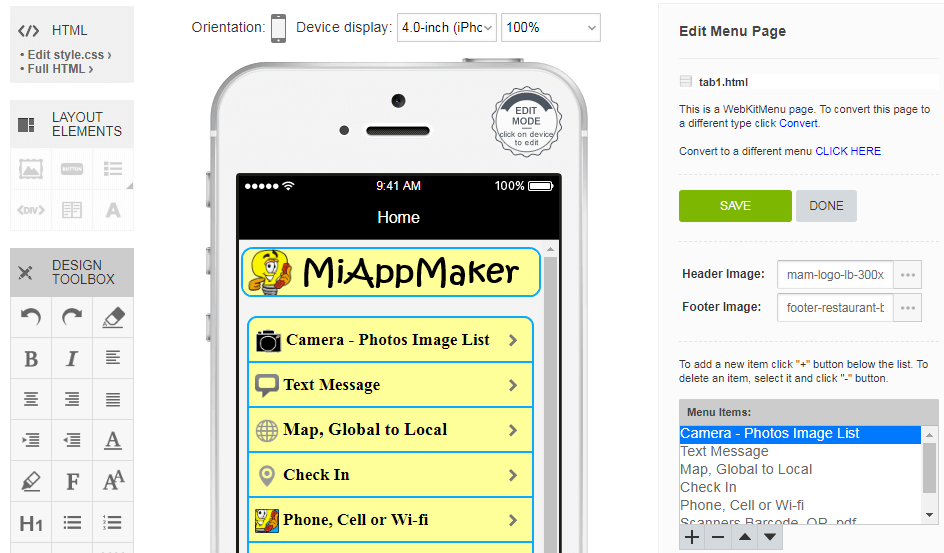 This sophisticated mobile app editor is well organized. Layout and design (content) elements are separated in their own toolboxes. The back and forward icons move forward or backwards through the edit list. Making it easy to undo or redo your edits.
Are you a coder? The 'Full HTML" button brings up a source code editor. Very usefull if you want to add a something special like a cool plugin. The code editor accepts HTML, CSS and javascript source code. It is not very high end but gets the job done. The "Edit style.css" link opens the stylesheet editor.
"Layout Elements" toolbox contains icons corresponding to page layout, like images, button, list and menu items can be added or modified. The "Design Toolbox" contains tools that add or modify the content in the page. It includes many special tools you can use to add things like maps, PayPal buttons, email, phone numbers, videos, forms, voice and more.
These updates make building a mobile app real easy AND the source code is done for you. Learn more....