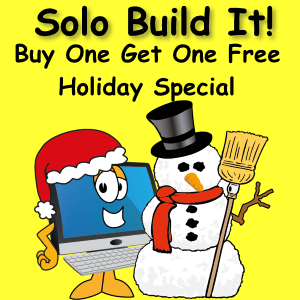 Got an idea for a website business?
Got 2? Try SBI BOGO 2 for 1 holiday special. Having all the right tools for the right price is your best gift ever. Getting it right from the start makes the difference between success and failure. Here's how to turn your idea into a money making website.
Once a year special offer from Solo Build It. Get 2 for the price of one website builder subscriptions. This could be the best decision you ever made. When you love what you do and are your own boss with an opportunity to create financial freedom you have to check it out.
Share the wealth with a friend or loved one this holiday season. SBI is a money making business building system. You supply the idea and SBI supplies the means to get it in front of everyone in the world. Turn your idea into a mobile responsive website that works on all platforms. You can create your own or use one of SBI's templates. Keep one for yourself and give the other as a gift...
Features of SBI
Building an online business can lead to financial freedom. If you could replace your income and work from home would you do it? You can with Solo Build It
All the tools, support and instructions to be successful are included. By far the most complete collection of guides, community and step by step instructions available world wide.
SBI is the only proven system to deliver exceptional results when it comes to online buisness building.
Work from home and spend more time with your loved ones. Do something you love where you are the boss.
Why SBI and not Wix, GoDaddy, WordPress or anybody else?
Because of the support. SBI has the most informative Action Guide for building an online business. Couple that with the 24/7 support and community forums, you can ask and get answered any question about building your own online website business. The support group is made up of seasoned professionals and experienced volunteers with
exceptional response time.
SBI has all the tools! No need to go anywhere else to get everything you need, unless you want to. You can design your layout, build your webpages, build forms, start a newletter, create image galleries, and so much more. To many featues to list here so we made this collage. SBI BOGO Holiday Special Dec12 To Jan 3
Limited time offer on now. Buy one Solo Build It subscription and get one free. Only $299/yr is really unbeatable. You can pay that back in a short time. SBI shows you exactly how to build a website that makes money.
Prefer WordPress? Get SBI for WP only $149/yr. You get everything in SBI plus WP plugins. Get everything WP offers and super size it with SBI. SBI for WP BOGO now till Jan 3.
SBI is an excellent Christmas gift for your self and a loved one. Think about it you are getting a possiblilty for financial freedom. The opportunity to create a work from home job. Ideal for stay at home moms, retirees, young entrepreneurs and you.