SBI Rss Template for Easy Blogs. Get custom templates just for Site Build It! websites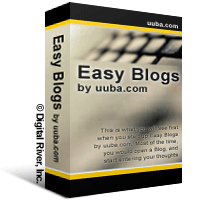 You will need EasyBlogs software to use with the tutorial. Get
Easy Blogs Software
Easy Blogs allows anyone to write and publish his or her very own web log or "blog". Simple enough for the non-technical, and yet with enough extra features to please the demanding too.
Use one of the many included web-site templates or build your own. Templates are designed to be sharable with other Easy Blogs users. Store your Blog on your PC. Publish anywhere!
EasyBlogs comes with a default template. To convert to a modern template may require consultation. I will be happy to assist you.
Feel free to contact us if you need any help or have not been able to download your package successfully.
Thanks,
Tim Koen