First impressions can determine whether a visitor will purchase from you or not. If they feel comfortable and you give them something to do your chance of making a sale or connection goes way up.
A cool tool can entice a feeling of confidence. Like the "Cool Tool Box" above, it shows a number of links to various tools. Instead of cluttering up the place with a dozen paragraphs I organized them into a cool action oriented tool. Check out these cool tools 4 your website.
eWriter Pro - Professional PDF Compiler
eWrtier Pro a PDF compiler software and tutorial. Feature rich and low cost tool allows you to create stunning ebooks with ease.

INSTANT ACCESS
$47.95 Our Price $9.97

Low cost software! eWriter Pro is a professional pdf compiler that is so easy to use, you won't need the included tutorial.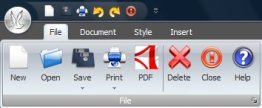 Order Now and Get Master Resell Rights to eWriter Pro! Check out this sample ebook made with eWriter Pro.
Included - 5 bonus sample ebooks - how to write, publish and market ebooks. Read More...
---
Mobile App Maker
Mobile App Maker is a 4 step editor/publishing system for creating yout own mobile app. This tool is so extensive it deserved it's own website. Hence Miappmaker.com (MAM) was created.

Create and publish your own mobile app. Complete system takes you from concept to publishing. Do it yourself or have MAM make one for you. We'll guide you through each process to get your app accepted in all the app stores.

MAM's mobile app building service may be for you. Simply signup select a plan and start building. We work with you to customize the app to your specifications. MAM offers 100's of pagetypes to incorporate into your app.

The publishing process is made easy with our tools. We collect or invent all the graphics, functions and certificates needed to get your app working and approved.

You get to preview and simulate your app while it is being built. All the pages and functionality can be checked and debugged on the fly so you can see right away how the app looks and functions.
Password Swap Tool (Membership Website Software)
Password Swap tool generates a membership style website. Intended for small simple memberships. Password protect your content so only registered members can see it.

Great for hiding content from casual visitors and showing it to your signed in members. PWS is a javascript that swaps in content upon a successful login.

No need to pay a membership website service to keep your content protected. Potential members can sign up for a unique password then view your members only content.

Great for securing initial contact prior to devulging information. Can be used to hide pricing from non-members. Can be used to protect sensative information from outsiders. Can be used to offer discounts and special events for members only. Read More...
More Cool Tools 4 Your Website
See Also:


Cool Tools - Tools, tips and techniques for creating a website or online business.
Website Packages - Build your own website or have us do it for you.
Site Build It! - The only all in one website building suite that teaches you how to build an online business.