The SBI EasyBlog templates have been customized specifically for SiteBuildIt (SBI) websites so that the graphics display properly plus you can add Google AdSense and the capability to have comments added to your News Blog.

Choose any one template for now. You can always change with the flick of a switch later. Have fun!
HTML Uploaders
- Develop Your Own Templates
SBI css templates have arrived. These templates all use the same html code. Therefore there is only one template that you need for your Easy Blog. It is called "SBI css uyoh."
You can create your own SBI EasyBlog templates from scratch using the built-it Template Packager feature in Easy Blogs! This is one of the main reasons I thought this software was so cool. Easy Blogs is the only software that I researched that made it possible for you to create a blog template that matches your HTML template of your own design.
To design your own template, use the section in the Help files of the Easy Blogs software, labeled simply, "Templates". There is also a tutorial in the website, entitled, Understanding How The Easy Blogs Template Works that is helpful for learning how to modify your blog templates.
Or, if that is all too much, just use one of the template styles listed below.
Each template below has it's own look. Preview each template and then decide which one you would like to use on your News Blog.
You find some SBI EasyBlog templates that you like but you don't like the picture, you can change it! Check the help section of the Easy Blogs software for how to do this.
NOTE: If you are not adept at using HTML....then don't try this! This is only for advanced HTML coders.
SBI EasyBlog Templates

Style

Name

Background Color

Blondswirl

Gold

Faces

Pink faces

Machines

Grey machines

Rosestucco

Background pattern has a stucco look with some rose colors.

Beigetones

Beige

Bluetones

Light Blue

Greentones

Light Green

Graytones

Light Gray

Rosetones

Rose Petal

Yellowtones

Bright Yellow

Angry Man

gold

Beer

brown

Lemon

bright yellow

Computer Man

blue/teal

Pad with pencil

gold

Pencils

gold

Question Man

grey

Rose and Heart

white

Stop Sign

lime green

Windmill

light grey

Windsurf

light grey

Blue Wool

light blue

Grass and Leaf

light green

Rocks

grey

Wood and Leaf

light brown

Book and Art

white

High Tech

white

SBI Customized

white

SBI-CSS-templates
SBI css uyoh
based on css file
3-column-css-sbi
based on css file
AJ's 3 Column Fixed Width
white
AJ's 3 ColumnFluid Width
white
Custom templates by BWT
your choice
SBI 2 Template
your choice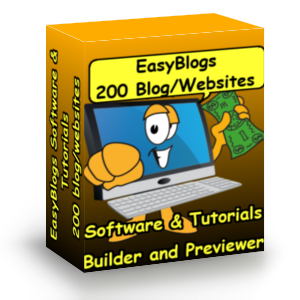 Templates Only $5.95 each
Note: After payment you will be taken to the next page for immediate download. Make a note of the template you want and select that on the next page.