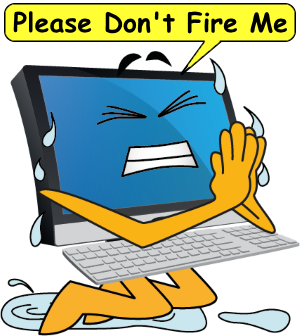 We've all been there before. I made an oops and now I have to work on Saturday to fix it. What the boss doesn't know is that I get to blog about it. I'll pay for this one on Monday.

So here's the deal. A friend asked me why her website app wasn't mobile responsive. She tried everything but still the darn thing wouldn't resize on smaller screens.

Well the solution was simple. She forgot to change the header logo to be responsive as well. The problem wasn't the app at all. It was a giant header logo image that was holding the page size out.

While testing this friends app the boss discovered our header logo image wasn't working either. "Tim" the boss says "mmmm, why don't you go ahead and work the weekend?"

"Here's what I want you to do. First make a suitable logo for mobile devices and then add it to every page." Oh boy, say goodbye to couch potato head this weekend.
This is the new header logo for Best website tools for mobile devices. It only shows up on devices that are smaller than 468px wide. That will include most smartphones.
Why is this important? You might wonder? Well, mobile friendliness is a prime factor in Google's ranking algorithm. Poor user experience on a mobile device will make the whole website less attractive to Google search engine.
To improve mobile friendliness a webpage needs to be mobile responsive. And a giant header logo will not do that. So for my penance, I have to give up Saturday afternoon and re-upload every page on the website with the new mobile logo header.
Sorry, no fancy link this time. Just the cool website tips. What's that I gotta spell it out? Okay, here's the tip: design your website to be mobile responsive otherwise users and Google might not like it.
"Tim" the boss said "mmmm, why don't you go ahead and get back to work."