What could be better than blogging? Blogging can do so many things it is hard to imagine what could be better. Blogs have so many things going for them, that many websites are only blogs. It seems that the only way to improve on that would be to go beyond the blog. Now, you tell me! What is better than blogging?
Better Than Blogging
Do you have a technique that's better than blogging? Or a blog that's better than Content 2.0? Or a blogging strategy that works? Why not let everyone know what works for you. Your turn...
What Other Visitors Have Said
Click below to see what others have said that is better than blogging...

Blog comments vs SBI C20 pages

Blog comments vs SBI C20 pages. Before I had an SBI site, I started a blog about homeschooling. Boy! Was it hard work. I had to post very regularly …

SBI 2.0 Page Dominates Not rated yet
My SBI 2.0 page dominates it's niche, and has really helped my website. As a successful weight loser, I know a lot about herbal nutrition and have helped …
Is Content 2.0 Better Than Blogging?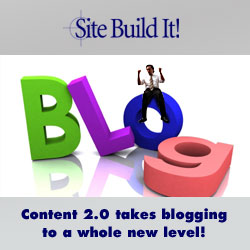 Enter SBI Content 2.0 a content creation application that increases the value of your visitors experience. With SBI C2 your visitors get a chance to add their voice, make comments and keep tabs on their submissions. Much like a blog and a social network combined, SBI 2.0 really engages your visitors.

SBI 2.0 is "Content 2.0" with more horsepower" It's like a combination of Wikipedia, MySpace and flickr, except users cannot continuously overwrite each other's content, they don't create "Profiles" and gossip, and they do much more than just upload photos. Take the best of Web 2.0, eliminate the worst, and you have Content 2.0. (Now SBI 2.0).

Visitors create valuable content for you, quality-controlled by you! Each submission gets a webpage of it's own. Complete with commenting and email notification. Learn more about SBI 2.0.