I am pleased to introduce SBI Rss Tutorials. Masters blogging course for Easy Blogs software, for any website especially Site Build It websites. SBI Rss Tutorial is a complete package to put a blog launch platform on your websites, using Easy Blogs software.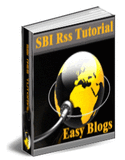 (Includes Easy Blogs Software and Templates)
Only $167.95 $99.95 $19.95
"Now you can ramp up your search engine positioning and double even triple your traffic by adding a blog launch platform to your website!" This is the turnkey blogging SBI Rss Tutorials Package You Need To Read & Implement Today ... Created especially for Site build It! websites, but can be used on any website.
SBI Rss Articles For Easy Blogs Software and Usage
SBI Block Builder 2 - BB2 Launches Best Website Tools of the Future -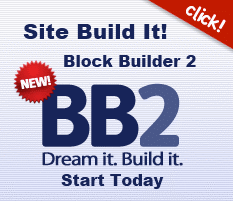 All new Site Built It Block builder 2 (SBI BB2) is going to revoltionize online business. With the release of this new website builder all other builders are now way behind the leader, again.
All new drag and drop interface makes website design simpler and more powerfull than ever. SBI BB2. If you are considering upgrading or starting your own online business you have to check this out. Easy to follow instructions guide you through the website/online business building process. A complete set of tools accompany the website builder. Making SBI BB2 the leader and way ahead of the competition and all for one low price.
Update: SBI Block Builder 2 - (SBI BB2) Launches Best Website Tools of the Future. Take a look.
SBI or WordPress to Blog or Build an E-Business - Here is a comparison between SBI or WordPress to build an e-business. A new landing page by Site Build It (SBI) touts the advantages of SBI over WordPress to build your online e-business.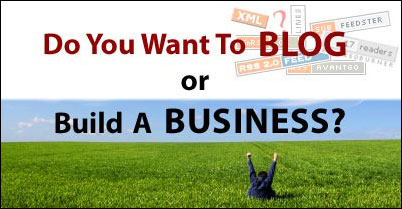 Website Builders Action Guide By Solo Build It -
Action Guide - tutorial to create and market a profitable online business. Step-by-Step instructions show how to build your website and the tools to make it a success. This 10 day (not literally) course takes you through all the steps needed to build an online business. From conception to monetizing to building relationships. See table of contents below.
Easy Blogs SBI Advanced Options - The Easy Blogs (EB) advanced options can dramatically increase the content on your website and number of pages. The following tutorial will show you how to get the most from EB.
To get to the 'Advanced Options' you must first open a blog in the software. After you open a blog you will see the main page. This is where you get to all the sections in the software. First Select "Options' then this screen should be showing.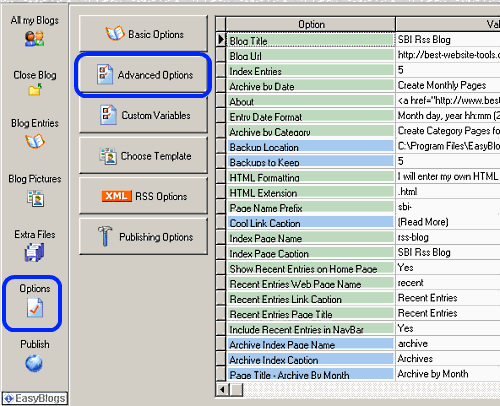 Next select "Advanced Option". This screen will show. Let's take a look at each of the selections in Advanced Options to see what they all do.
Formatting of Entries - has 2 options Read Full Article
SBI EB Menu Bars - Now we're bloggin... it is my pleasure to introduce you to the power of Easy Blogs menu navigation system. EB neatly integrates with SBI.
For today's lesson we'll be looking at the navigation menu options available in EB. This template boasts 3 styles of navigation, the "Top Row", "Sidebar" and "Bottom Row" menu.
SBI EasyBlogs Template Packager - The SBI EasyBlog template packager is where you create and store templates. Each template has 6 sub-templates for each of the different types of pages you can create on your website/blog. The templates that come with the Tutorial are all configured to plug right into your SBI website.
Read Full Article
SBI Blog Launch Platform -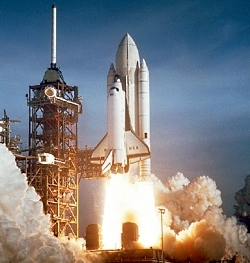 Put an SBI Blog Launch Platform on your website and watch your search engine rankings soar, literally. With Easy Blogs and SBI you can get in on the RSS rocket that is blogging.
Easy Blogs is more than just a blog creator it's a website builder. Learn how you can create blogs, build websites and launch them to the world wide web. Find out why it's called the SBI Blog Launch Platform. Read Full Article
SBI EasyBlogs Features Full Blown Blogging -
SBI EasyBlogs features give you the power to integrate a full blown blog right into your website. How about 100 blogs? Built in content management system and template packager give you the power to create complete websites, mini-websites, blogs and articles.
SBI EasyBlogs features page gives a summary of the more important features. You get insight into the power of combining Easy Blogs with Site Build It! Read Full Article

Building and publishing your own blog the way you want it, and having all the advantages of it being right, is exciting. This SBI Rss Tutorial package will teach you how to put a blog launch platform on your site, update it on a regular basis and create the all important XML file that will publish your daily blog across the web.

Building and publishing your own blog is exciting, rewarding and profitable. As you grow your blog you get a sense of accomplishment. In the end you may want to shout, "WOW! What a ride." It can be that much fun. Check out my adventure.

SBI 3 Column Template for Easy Blogs - This template is table based 3 column CSS driven. With the use of styling we can define the look and feel to match any SBI website.
Read Full Article