You are on an archive index page. In this section we show archive, article and category indexes. Every time an entry is made it is stored on this page.
Use this page to narrow your search. If you remember where an entry was made you can find it quickly from this listing. Thanks for reading.
I am pleased to introduce SBI Rss Tutorials. Masters blogging course for Easy Blogs software, for any website especially Site Build It websites. SBI Rss Tutorial is a complete package to put a blog launch platform on your websites, using Easy Blogs software.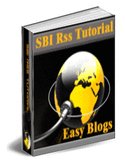 (Includes Easy Blogs Software and Templates)
Only $167.95 $99.95 $19.95
"Now you can ramp up your search engine positioning and double even triple your traffic by adding a blog launch platform to your website!" This is the turnkey blogging SBI Rss Tutorials Package You Need To Read & Implement Today ... Created especially for Site build It! websites, but can be used on any website.
SBI Rss Articles For Easy Blogs Software and Usage
SBI Block Builder 2 - BB2 Launches Best Website Tools of the Future
SBI or WordPress to Blog or Build an E-Business
Website Builders Action Guide By Solo Build It
Easy Blogs SBI Advanced Options
SBI EasyBlogs Template Packager
SBI EasyBlogs Features Full Blown Blogging
SBI 3 Column Template for Easy Blogs
SBI Rss Tutorials - learn how to put a blog launch platform on your website. Includes templates for all websites especially Site Build It.