I am pleased to introduce SBI Rss Tutorials. Masters blogging course for Easy Blogs software, for any website especially Site Build It websites. SBI Rss Tutorial is a complete package to put a blog launch platform on your websites, using Easy Blogs software.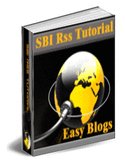 (Includes Easy Blogs Software and Templates)
Only $167.95 $99.95 $19.95
"Now you can ramp up your search engine positioning and double even triple your traffic by adding a blog launch platform to your website!" This is the turnkey blogging SBI Rss Tutorials Package You Need To Read & Implement Today ... Created especially for Site build It! websites, but can be used on any website.
SBI Rss Articles For Easy Blogs Software and Usage
SBI Block Builder 2 - BB2 Launches Best Website Tools of the Future
SBI or WordPress to Blog or Build an E-Business
Easy Blogs SBI Advanced Options
SBI EasyBlogs Template Packager
SBI EasyBlogs Features Full Blown Blogging
SBI 3 Column Template for Easy Blogs
: SBI Rss Blog learn how to put an easyblogs launch platform on your SBI website. Html and CSS templates available. SBI Rss Tutorials - learn how to put a blog launch platform on your website. Includes templates for all websites especially Site Build It.