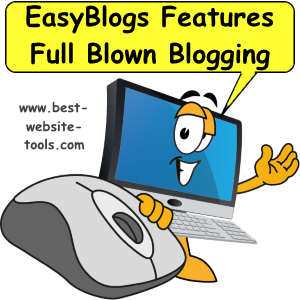 SBI Easy Blogs features allow you to integrate a full blown blog into your SBI website. The most important feature of Easy Blogs (EB) is it's ability to create an
(RSS file) for syndication on the world wide web. With EB you can create up to 100 RSS feeds and that means up to 100 blogs. With Site Build It you can add them all to one domain name. Imagine what can be done with that?

The next most important feature of EB is it's content management system. EB automatically creates those all important archive pages. You can set the number of posts to appear on your blog. When your posts rotate off the bottom of the blog they don't just disappear they get archived.
SBI EasyBlogs Features Blog Entry Editor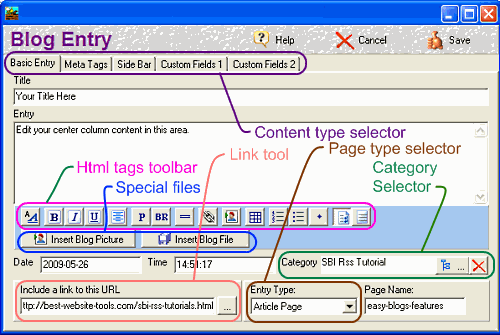 EasyBlogs generates all your pages for you. All you need to do is write content. You can create different types of posts (article, blog, hidden, home or static page, and categories) and EB will create all the navigation links automatically. No need to build your navbar, add menu links or build your own archive, EB does all that and builds the html pages too. Another great sbi easyblogs features is Categories.
Categories in blogs enjoy a far higher on site time than those that don't. The reason is simple, categories offer the visitor a way to quickly find what they are looking for. Much like a site map the categories organize your site for you. and contain links to all your posts and articles. Not to mention the search engines love being able to spider your site.
Meta tags in EB are simple and yet a modifible sbi easyblogs features. You get input fields for the standard 'file-name', 'Title', 'Keywords' and 'Description' tags. EB goes a step farther with the 'Article Teaser' tag, which can be edited like a normal blog post.
Articles are another great feature. In EB you have the option to write lengthy articles and still have them archived, categorized and make a blog post. With the 'Article Teaser' tag you get the best of both worlds. You get all the advantages of SBI + the blogging capabilities of Easy Blogs.
Custom tags for the savvy developer. Much like a server side include file only on the client side. Have something special you want to insert into your page from time to time? There are 10 global custom "tags" which can be set up on the Custom Variables screen found on the Options tab and used on any web page.
The "Insert file' function allows you to quickly add files to your pages. A neat tool for linking to ebooks or applications. SBI Rss Tutorial - Table of contents
Built in HTML editor allows you to build many types of content pages not just blog posts. You can build your whole website complete with home page tier 2, tier 3 and hidden pages. EasyBlogs breaks up the types of pages and content into manageable segments. All this is fully explained in the tutorial.
One of my favorite SBI EasyBlogs features is that you can structure your file directories just like SBI wants it and build your content just the way SBI likes it. There are 2 advantages to this. One you get to preview your pages before you go live with images, support and media files all working. Two, when you upload your own all your files are in the right place. No need to hard code in full URl's.
Permalinks and off page links. These features and more are covered in detail in the tutorial...