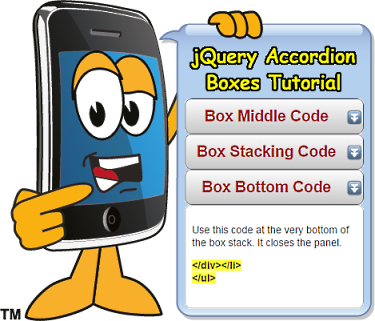 So, you made this great website page, put your heart into it. You've described in minute detail how well your idea can solve a problem. Only to realize... nobody is reading your page.

The problem may be that the page is too long and/or too boring to engage the user completely.

Your content may be boring. Visitors love to skip over paragraphs and skim through a page. If they like what they see they might go back to read the rest of the page. Accordion boxes make your page more interesting. They can engage the reader with a little fun.

Accordion boxes use animation to show/hide content making pages shorter and more interesting. Click on a title to open/close the content panel. Engage users longer, improve click through rate, time on page and bounce rate. Check it Out.
How Accordion Boxes Work
With this cool tool users can expand/collapse a responsive content boxes. You can structure accordion boxes to create a library, a menu or an e-store. Generate a sense of fun in your page with organized content. Users instantly get a feeling of satisfaction knowing they can control the virtual reality.

Create dropdown like accordion boxes with text links, images or fancy buttons. This code works on any element and is mobile responsive. Made Easy tutorial explains how to incorporate them into your website. Basically you include jQuery and the A-B javascript into your page. Then use standard html to create the content. Pre-made box templates are included in the kit. Easily copy/paste the raw html into you page. Then simply add your content to the box.
It is fun to open and close the boxes. With this tool a webmaster can engage their audience much faster and for a longer time. Hide boring content and make it look cool at the same time. Give your visitors a sense of fun. They want to see the hidden content. And they will explore to see what treasures are underneath.
With the growing mobile device usage long webpages tend to be too much information for the user. With an accordion box a webpage can be shortened to something a mobile user can quickly scan.
Did I mention that Accordion Boxes are mobile responsive? You bet, that is what sets these boxes apart from others. You still have to layout your content with mobile in mind.
The Code Chunks
You need to include these javascript codes on your page (or website). You want to add this right before the closing