1 - update your copyright statement. Most websites have or should have a copyright statement WITH the name of the owner and the years of operation listed on every page. For some this is a tedious task. Because it means visiting every page of the website, making the change and then re-uploading the page. The smart webmaster will put the copyright statement into an included sub-routine. This 'include' file is then programmed into every page. Making this task a one time update. Here is ours:
Best-Website-Tools.com By: Timothy Koen
© Copyright 2007-2019
All rights Reserved
The copyright statement can be simple or fancy but is necessary for legal purposes. Suppose you write an article and later you find it has been copied by another webmaster. If you have not copyrighted it there may be nothing you can do about it. That is because copyrights only last 7 years unless renewed every year.
The copyright gives you a legal avenue to pursue any thief who has stolen your material. Without it your burden of proof becomes much harder. But, more importantly the copyright statement scares off most would be content thieves. Unfortunately some newbies mistakenly think what's online is free to 'borrow.' Then proceed to copy and paste your content into their blog or website.
Fortunately there exists laws protecting you, called DMCA (Digital Millennium Copyright Act) of 1998. This update to the Copyright Act of the USA. Here is an excerpt from Wikipedia.
This simple task can help prevent a world of headache if your precious material is stolen. And it is a lot easier to do than initiating litigation to pursue infringement. Fortunately there are alternatives to litigation that you can do that make this scenario easier to deal with. Here are some:
Contact the offending webmaster (if you can) and ask them to remove the content or threaten litigation. If that is impossible or impractical, try this...
Contact the ISP (Internet Service Provider) and complain about the stolen material. In your request be sure to include a link to your original content. The ISP will then be obligated to remove the offending material. If this doesn't work, try this...
Contact any Search engine providers (Google and Bing, etc.) and complain about copyright infringement. They may remove the offending content from their seach engines. Unfortunately, this can take a lot of time and effort. But if you are losing money to some thief it is worth your while.
---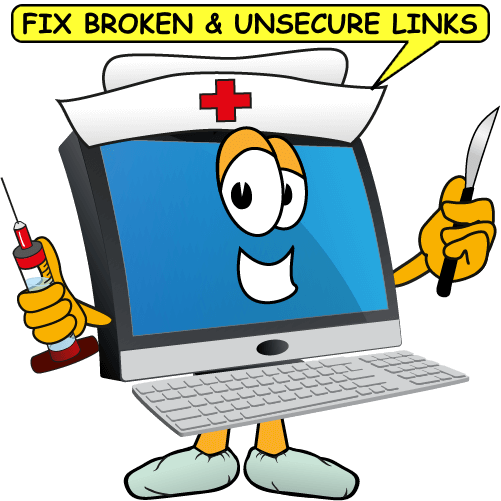 2 - fix broken and unsecure links
. There is nothing more frustrating to an Internet visitor than a broken link. Correlary to that is there is nothing more frustrating to a webmaster then the loss of a visitor due to a broken link. Also note that broken links are red flags to search engines. You page(s) can receive a ranking penalty for broken links.
Unsecure links are those that a website goes outside the host website to include on a webpage. Secure links always start the protocol https: or Hypertext transfer protocol secure. These can include but aren't limited to APIs (Application Programming Interface), off-site content like links to images provided by afilliate marketing and videos or audio files by others.
There are several websites that scan your website and report broken links. My favorite is brokenlinkcheck.com this is a free service for up to 300 pages. After that you can upgrade to a paid service. However you may want to 'Google' the search term "broken link checker" to find the best one for you.
Unsecure links can drag your rankings down in the search engines. Unsecure links can also scare off potential customers because search enines warn users about these types of pages. Unfortunately, one unsecure link on a webpge can make the whole page marked as unsecure.
Also unfortunately unsecure links can disappear in the future. Many webmasters are converting (or have converted) their website to the https: secure protocol. This action will render old links as broken, unless a redirect is provided to the new URL. Nevertheless it is wise to find and update unsecure links. Here is a service we use httpschecker.net. This service is free for the first 500 pages. A premium service is available with multiple features not included in the free verion.
---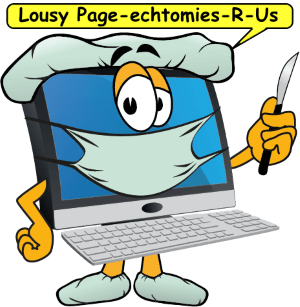 3 - fix or delete poor pages. Poor pages are those that are weak, orphaned or duplicates of other pages or otherwise just plain lousy. Weak pages are those that are less than 500 words, poorly written and generlly lame. This type of page can hurt the overall ranking of the entire website. Orphan pages are those that are not linked to by any other webpage on the website. Generally lame pages can be outdated content that is no longer useful. Or, pages that do nothing meaning no call to action or otherwise useful.
Lame pages can be updated. Try adding a call to action like a button link to a product or service. Add new paragraphs and images to the copy. Sometimes you can combine 2 or more pages to make one larger more substantial page. If the conent simply cannot be improved consider deleting the page or redirecting the URL to a different more important page.
At worst your page may qualify for a "lousy-page-echtomy." A process whereby all content is evaluated for its importance with content either improved or discarded. Every page should meet certain criteria that makes it useful to the reader and rank well in the search engines. Try updating a few pages on your own or hire a virtual assistant to do the work for you.
---


4. - make a future plan for the rest of the year
. Like a new years resolution, think about where you want your website to be this time next year. For instance last year I resolved to refurbish and upgrade this website. Got that done so this year the intention is to upgrade expand the services department to add capability. Your new years resolution becomes this years goals.
Hope This Helps
Tim
P.S. Sound like a lot of work? Have BWT do it for you. Please specify your request on the consultation form. Check it out...