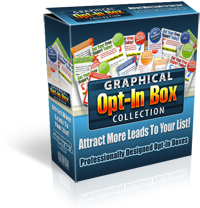 A few moments or so from now, you could be building your opt-in list faster and more effectively than ever before. Have you noticed recently how all of the most successful sites and lead capture pages feature prominent, highly graphical opt-in boxes?
The reason for this is simple - it gets attention!
The fastest way to increase your response is to attract more attention to what you want the visitor to do. People are skimmers, if you don't draw their eyes to what you want them to do, they just might pass it over altogether!
If you are building your list, you want people to notice your opt-in box. If your visitors don't clearly see your opt in offer or it blends in to the rest of your page you have just lost a potential opt-in and the opportunity to build a relationship with that customer.
Luckily, There is a Nearly Instant Fix For This "Invisible Opt-In" Dilema ...15 Total Graphical Opt-In Boxes that are perfect for any site!With all of these great graphics and templates it's easy for anyone to create HIGHLY effective squeeze / lead capture pages FAST& EASY! To get your copy. Go to...