EasyBlogs template packager is the place to create and modify a template.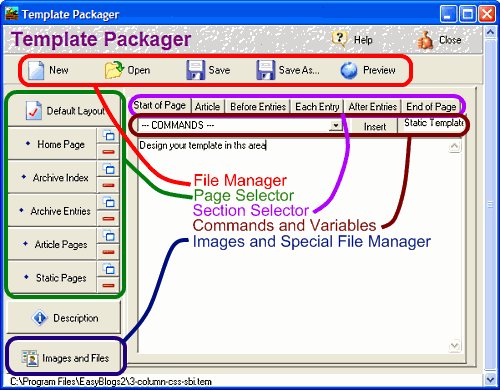 Each sub-template has 6 sub-sections to control different areas of the webpage. The editor also has 95 pre-programmed commands that you can use to program with. Don't worry if this sounds complicated, it really isn't. Once you see how it all ties together you'll be creating your own fancy designs in a short time.
EasyBlogs Template File Manager Tutorial
Open - opens an existing blog. When clicked on this button opens a file manager dialog in the proper directory. All blogs end in the extenstion '.zdb'.
Save - saves your template. Use this button whenever you make any changes to your template. the easyblogs template packager will prompt you to save if you forget to save your changes. If you do not save your work it will be lost if you exit without saving.
Saveas - allows you to create a new SBI easyblogs template from an existing blog. This can be very useful if you are creating mini-websites that are all published under one domain name. Saving as a new template requires that you change the file name to something new.
Preview - generates a new browser window with the easyblogs template in it.