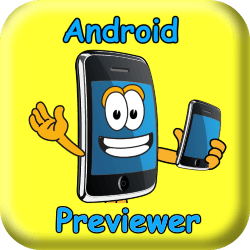 Thinking about building a mobile app. You will need to have a mobile app previewer tool to test and review your artwork. Most aspects of a mobile app design depend upon the operating system and its display console.
In other words you need to test your app on the device it is intended to be used on, a smartphone for example. For that you need the right previewer app. Many options you may want to test include cell phone, GPS, maps, email, and texting. All native functions that can only be accessed on a mobile device....yours.
This mobile app previewer tool is used with apps built using Miappmaker mobile app builder. Use this previewer to test and inspect your 'Miappmaker built' android mobile apps. This app previews multiple platforms including smartphone and tablet, android, iPhone, iPad Kindle and PWA.
Not the right previewer you need for your device? Find the right previewer here.