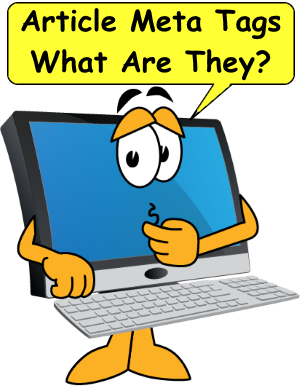 Article meta tags are the meta 'description' and 'keyword' tags required for every content page on the Internet, by the standards sactioning committee W3C (World Wide Web Consorteum). These tags are used by many search engines and web directories to understand what your page is about. When used properly search engines and directories can have a clearer understanding of what your page is about.
Article Meta Tags Tutorial teaches you how to use keyword and description meta tags in EasyBlogs. You can use the meta description or keyword meta tags as a tagline or keyword breadcrumb link in your pages. Notice the tagline at the top of this page. It is the meta description tag for this page. Also notice the breadcrumb link bar at the very biottom of most pages they are the keyword meta tag for this page.
Learn how to use the description and keyword meta tags for search engine optimization on your website. Find out how and why meta tags are used to let the search engines know what your web page is all about.
EasyBlogs template packager utilizes a sub-routine insertion method to construct the article meta tags when the page(s) are compiled. These tags allow the webmaster to easily edit the tags content and usage. Learn how to add them to your page(s).