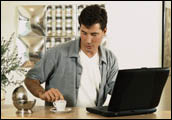 You have decided to start your own website business. But are not sure where to begin. While most large businesses have had a website for many years, many small businesses are just beginning their online presence.

This is where you come in and offer your expertise and services. You wonder if there is room for one more website design business. The answer is a resounding yes.

Where should you begin is with a solid business plan. After that you will want the right procedures to conduct business professionally. Then you will need the right forms, contracts and legal documents to make your website business go. Such as proposals, Invoices, Time Sheets, subcontract forms and worksheets. And don't forget that you will need an office with office tools in it.

I know it sounds easy on paper, but in reality there can be many pitfalls along the road. For instance how to deal with project creep and no-response clients. What can happen when the client demands extra work without considering the costs. Or dealing with non-project oriented inquiries. How you deal with all these non-productive issues that can sap the life out of your project, cost you money and cause your business to fail.

So many things go into a website design business besides just a computer and website building that you will want to organize thouroughly before you open your doors. That said what happens after you open your doors will get any business to do?

To find out how to deal with these issues and more in Website Design Business.