SBI 2 Template for Easy Blogs
February 23, 2010 14:22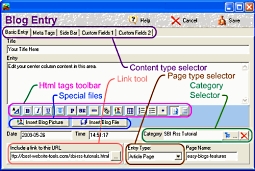 Easy Blogs - Blog Entry Editor

SBI2 template for Easy Blogs. This is a generic template for all SBI transition templates. I used my own style.css and images to make the template look good, and added the Easy Blogs menu system.
SBI 2 template for Easy Blogs uses style.css file to create a 3 column design.
Plug and play Easy Blogs templates for home page, default, hidden, static and article pages.
Easy Blogs (EB) is a powerful website building software set up in blog format. The unique HTML editor is easy enough for the beginner and sophisticated enough for the technically advanced. EB creates that all important xml file you need to syndicate your blog. Follow the link to see the generic template. Read Full Article