Do You Need An App For That?
Miappmaker mobile app builder can do that. This easy 4 step system saves you time and money. No need to spend thousands when you can do it yourself. All the tools, tutorials and support you need to make and publish your own mobile app.

Miappmaker (MAM) is a mobile app building system located in southeast Michigan. Our app making solutions let you build, publish and configure your app(s).

All the tools, all in one place. From concept to completion, we get it done, mobile app building system. Backed up by seasoned programmers, graphic experts and years of experience. MAM is for all your building, designing and publishing needs.

Publish in the Apple App Store, Google Play, Amazon Kindle or on your own website. We Build apps for all platforms including Android, iOS, Kindle and progressive web app.
Why Miappmaker?
Because of our low costs, we don't charge you to do work you can do yourself. BWT provides the tools, support and guidance you need to make your own app. Or contract BWT to build it for you.

Our process allows you to build your app at your own pace. We have a 30 day free trial period for your own account. We also have a 'Guest' account that you can use all the tools to create your app.

Get started by selecting a starter template.
Do It Yourself Mobile App Maker
Creating your own app is easy. The editor/simulator is set up with easy to follow instructions. We guide you through each step from concept to completion. Here's how:

1. Select a starter application. This will be a template you use to configure your own custom content.
2. Edit and configure your app. Include pages of your choice. Tier 1, 2 ,3 menu structure and navigation configuration are built in.
3. Select a Plan and Register. Create a free account to personalize your app. Then use that to open the free previewer app.
4. Publish in the App Stores. You can easily duplicate your app from one platform to another. Start by making an app for iPhone then duplicate to Android, iPad or Amazon.

Full support with your purchase It is free to build your app but there is a $100 setup fee to publish your apps. This covers, registration fees, certifications and cloud resources setup.
Custom Design and Build
BWT can make a custom app to your specifications. We design a layout, menu structure and assemble your content. Includes configuring, previewing, debugging, publishing and App Store submission.
You need to request a quote. Use the form below
Initiate Proposal and build schedule.
Collect information and build app.
Publish in the App Stores.
Miappmaker Consulting Request Form
Get an Miappmaker App Previewer for Your Device
Mobile app previewers are a must have to test your app during the build process. Use the builder to make your app and the miappmaker previewer to test it. Simply download one of the free previewers to your mobile device. While the builder does have a simulator some functions only work on smartphones or tablets (i.e. maps, email, native apps). You will want to build your app on a pc or mac desktop computer. Then use your mobile device to preview your app(s). Get one here.

Learn more on the App Previewer page.
Miappmaker Mobile App Editor/Simulator
The app editor/ simulator allows you to edit your app in real time. Step two is all about building, configuring and styling your app. This interactive simulator shows your progress through the editing process. Each change you make can be viewed immediately to show what it would look like live.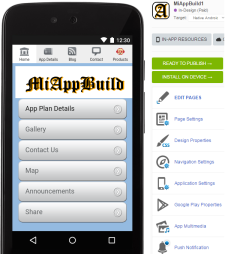 This system uses a combination wysiwyg editor / real time simulator. You can edit individual elements of the content and create unique and beautiful design patterns. Try starting with a pre-made template and configure it to your own standards. We support many business models in our template library. Learn more in the Mobile App Editor tutorial.
Mobile App Builder Tools
The easy to use editor is setup for the non-technically oriented yet sophisticated enough for the seasoned programmer. You get state of the art technology and full source code editing. Edit in layout mode or full HTML. Upload custom files like javascript if you want.

Give it a try! Or learn more about the Mobile App Builder

You can convert one app to all other platforms with the click of a button. No need to make several similar apps, our system allows you to duplicate one app and configure it for another platform easily.

Risk free 30 day trial. Money back guarantee. Use the builder free for 30 days. If you want to keep your app then pay for it. Priority support for first 30 days to help you get started on your app(s). Then continued support for the life of your app.
Select an App Plan For Hosting And Support
How a mobile app plan works. Each plan includes a $100 one-time setup fee. We need time and resources to program and setup your account. Hosting is included for one or multiple apps depending on the plan. Includes priority support and access to internal tutorials and custom made templates.

You can download your app and host it on your own provider with all their fees and costs. Or pay us a low monthly fee to host it on our servers. If you don't have your own publisher account in the app stores we help you set that up. Either way building a mobile app is a process that takes some time. Start by selecting a plan, register an account and set your options. Click here to learn more about mobile app plans.
This Service DISCONTINUED