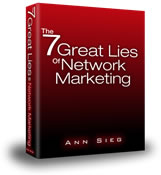 Almost Everything You've Ever Been Taught About Building A Network Marketing Business Is Pure BS!
And here's why: In this industry we have a genuine case of the blind leading the blind. Network marketing is very unique in that it's the only business opportunity that's ever been marketed to the general public on such a massive scale.
Your average, every-day American is told that they can jump right into this, with no prior experience what-so-ever and make a killing within 6 months! For example, on the website of one well known nutritional company, would-be distributors are told that "You don't have to be a pro to succeed!
Lie #1 - Everyone is your prospect!
An article found in a popular network marketing publication declares that, "You just have to believe that everyone is your prospect!" This insane belief has led to such ridiculous practices as the "3 foot rule" and the "when in doubt, blurt it out" technique.
Because of this lie, people have the mistaken idea that talking to anyone and everyone they come within arms length of is an effective recruiting technique. Learn more about MLM