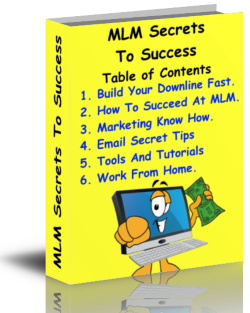 MLM_Secrest you may not have heard about the multi-level marketing contest at Site Build It! 1st prize is 20k USD, 2nd and third prizes are around 500 USD. Sorry to mention, the registration period is passed.

On top of that you have to be new to network marketing as well. Only SBI owners that joined after 24Aug2007 are eligible to participate in the contest.

That doesn't mean you can't get the training it just means that you'll have to settle for the consolation prize. The contest is teamed by Site Build It! and The Renegade Network Marketer, Ann Sieg.

Ann has put together a training manual that teaches new MLMers (and the rest of us) how to develop an online business in network marketing. Her tactics are well developed and easily learned.

So this little contest is being devoured by the lucky ones that made it in. For those of us who didn't get in we can still participate in the training.
I tried to join the contest before I found out that I didn't meet the criteria.
So I followed along and got some important tips and met some great people, (who asked for my advice on several issues). Eventually I found myself repeating myself and thought it would be better to write it all down. So I did, and MLM Secrets - mini-ecourse was created.
This mini-ecourse takes you through the steps necessary to succeed in multi-level marketing. Learn what the professionals are doing and why. Find out how to set up an MLM, build your downline fast and create multiple streams of income.
MLM_SecretsTable of Contents:
Build Your Downline Fast - Use the internet to generate leads.
Email Multi-Level Marketing - Your secret weapon for MLM success.
How to Succeed in MLM - Multiply and grow your profits.
Motivating Your Downline - Give them the training they need.
Multi-Level Marketing Know How - Find a profitable MLM that suits you.
Multi-Level Marketing Secret Tip - A secret tip to skyrocket your income.
Multi-Level Marketing System - Do everything online.
Network Marketing success Tips - 10 tips for better results.
Network Marketing Training - Give your downline a level playing field.
Residual Income Opportunities - Guidelines for selection of an MLM company.
Final Thoughts and Resources - 5 part autoresponder series, tools, tips and more information.
Oh yeah, I mentioned the consolation prize, which is 2500 USD for the best written entry, which anyone can enter. I was thinking of entering, how about you? Learn more about