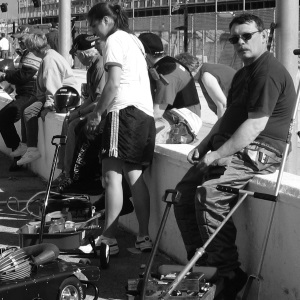 Contrast
is the level of black to white components in an image. Even color images have a light to dark conponents. There should be a balance of light to dark areas in your picture. This determines the mood of an image. You may have heard the terms "dark and moody" or "light and airy" used to describe a picture.
Too little contrast and the picture looks washed out. Too much contrast and the image looks harsh. Either way the level and range of the contrast sets the mood of the image. For instance dark blue, red or purple set a dark mood while lavender or pink are brighter, yet the basic colors are the same.
The formula for contrast ratio is equal to the widest separation in amplitude from white to black. With white being all colors combined and black being no color at all. On a range of 0-100, black is 0, and white is 100. Every integer between 1-99 is a shade of grey.
Color occurs when different amounts of the primary colors (red, green and blue) are added together, or varying amount of secondary colors (yellow, cyan and magenta) are added to gether.
Think of 'light and airy' mood as colors nearer to white. 'Dark and moody' are colors nearer to black. Pink for instance is 100% red + 90% blue and 90% green. Brown is 30% red plus 10% green and 10% blue. Yellow is bright because it is 100% Red and Blue with no green at all.