Options settings for EasyBlogs from TUTORIAL II : Setting Up Your News Blog, you were shown how to set up certain options including setting up your EasyBlog:

To see the detailed explanations for these option panels, please revisit your SBI-RSS-Tutorial and go to TUTORIAL II : Setting Up Your News Blog.
Basic Options
Advanced Options
Custom Variables
Choose Template
RSS Options.
Publishing Options
Options Settings Frequently Asked Questions

How Do I change my frequency?
Basic Options -set to archiving to days, weeks or months. Set number of entries on blog page.
How Do I change my blog title?
Basic Option top line.
How Do I change my Cool URLs link Caption
Advanced Option at the bottom of the window
How Do I change Web Page (file) Names for the articles and about me pages?
Advanced Option 'link'
How Do I change my RSS title or link?
Rss Tab under 'RSS Channel Description.
How Do I change my RSS teaser?
Rss Option under 'RSS Channel Description.'
How Do I change my template selection?
Options -- Choose Template -- Select a different template.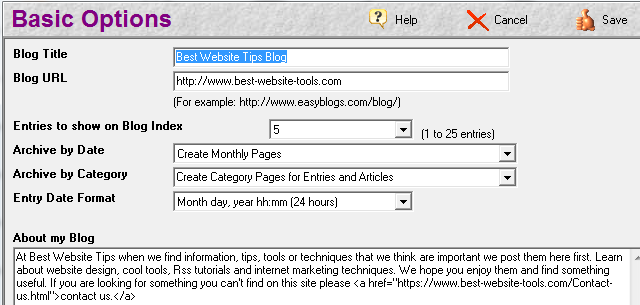 And More...Please go around the various Options buttons and panels and get familiar with your choices so you know what you can and cannot change in your blog settings!
To change any of the original options that you did or did not set up in TUTORIAL II : Setting Up Your News Blog, simply open your EasyBlogs software, Open your blog and find the Options button on the left panel
The various options settings are accessed by these buttons: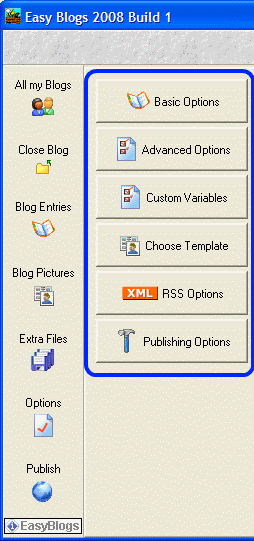 Options Settings Tabs
Basic Options - is where you set the blog title and description for your RSS feed. And enter your "About My Blog" paragraph.

Advanced Options - is where you name your pages and links for Articles, Categories and Archive pages.

Custom Variables - is where you set your meta keywords, meta desription and create your own custom tags.

Choose Template - select your template here. Easy to change templates quickly. Then click generate pages. All pages are instantly rebuilt.

RSS Options - is where you set the RSS feed data. Also add you RSS Channel Description.

Publishing Options - if you have an ftp client software you can input your settings here.

Please take time to notice the current options that you have selected are listed in the right side of this panel. Click in the option to edit it. Or use the large tabs on the right side to use a visual editor.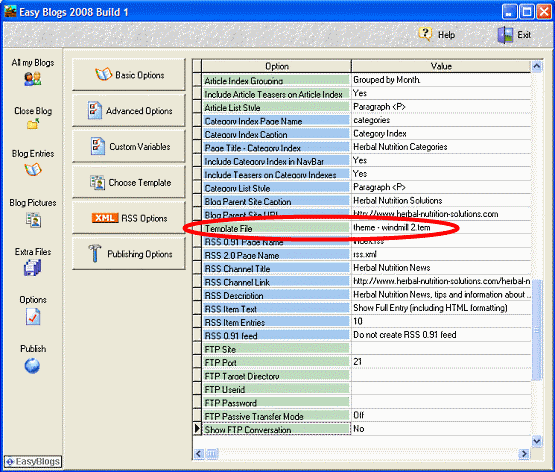 To change any options settings, simply click on the buttons on the left including Basic Options, Advanced Options, Choose Template and RSS Options and find the area that relates to the changes you want to make.
Note: As an SBI owner, you will not use the FTP options. For FTP users please contact your hosting service for instructions.
Please take the time to get to know these options areas before asking me how to change a particular option. Everything that is changeable will be found in one of these options areas!
Of course all this is covered in the 'help' section of EasyBlogs. A brief description of all the options settings are covered.
ATTENTION
All changes to options require that you:

a) re-publish, re-generate your pages in the blog software

b) re-upload ALL pages of your blog to your SBI site.

Be sure to do this after you complete the steps of this tutorial.
Thanks for reading
Tim
See Also:
Cool Tools - Tools, tips and techniques for creating a website or online business. Visit out blog tutorial library.