Internet Business 101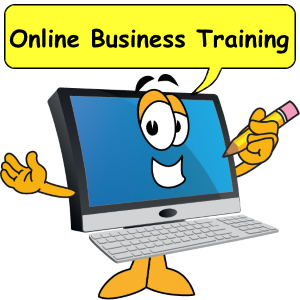 SBI eLearning (SBIeL) is the latest module to come from SiteSell. Now you can learn how to build your own online business in 10 weeks (website and hosting included). SBI has put together everything you need to build an e-business in a new online school.

Build the foundation of a real e-business in 10 lessons with Site Build It eLearning. Start and build a thriving online business, based on something you know and love. You can create a website of your own regardless of technical knowledge and experience. Really!

Site Build It! takes an easily understandable set of fundamentals that give you the flexibility to build your own Internet business your way. SBI eLearning teaches you how to build a website that keeps your visitors reading page after page.
Online School

SBIeL gets rid of the boring textbooks and notes, leaving you with the core "how to" that most business people wish they knew. You deserve a business that has the potential to succeed. SBIeL gets you on the earning path in as little as one month or less.
SBIeL is taught online via live audio and a virtual blackboard. You'll meet each week to work with your instructor and classmates. Learn at a steady pace through the guidance of an experienced SBI instructor, as well as from your fellow classmates that share their experiences and tips.
SBI eLearning the online school is designed for the "do-it-yourselfer on a schedule." Do all the learning from the comfort of home, on your computer, PDA or any Internet ready location. No need for weekly trips to a classroom!
SBIeL brings the offline classroom experience online. Most school systems teach very little about being an entrepreneur online. SiteSell Education and SBI! eLearning does. Take this class and graduate with an income earning e-business (and website).
With SBIeL you'll get feedback from other Internet entrepreneurs, who recognize the amazing income potential of the Internet. You will have a group of people that work closely with you to ensure that your website fits the needs of your market.
SBI eLearning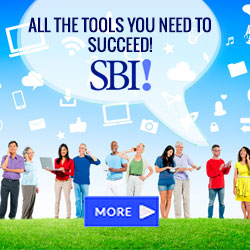 Dedicated instructors take you by the hand beginning with a plan and a step-by-step process that has proven to work across industries, across continents and across age groups. You'll learn how to do in depth keyword research that matches your business.
The focus is on giving you learning options for building a business on the Internet that fits the way you live, work and play. SBI! eLearning provides the guidance, answers and clarification for building your online business whenever you need it.
You will have access to interactive videos quizzes, live sessions, and exclusive resources. You get a step-by-step guide to building your e-business including checklists, videos, reviews and more.
Graduation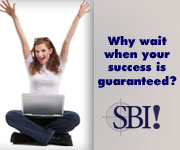 Spend just 10 weeks with SBI eLearning, to smoothly and systematically get your own online business up and running on a solid foundation. Start as a student, graduate as an online entrepreneur!
After you take the SBIeL course you'll have access to a special Alumni Relations Group on LinkedIn. Networking with classmates and other alumni will become invaluable. The Alumni group helps you take what you've learned and continue to follow through on building your business.
SBI eLearning is much more than learning about the Internet, "putting up a website," or earning a diploma. You will graduate with an online business (or more), and a clear roadmap to grow it as large and as profitable as you want. All from the comfort of home.
Take advantage of this life changing opportunity to achieve your dream. Join the next SBI eLearning class and get your online business prepared to win.