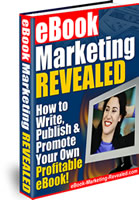 Ebook writing is one of the best ways to convert your thoughts and ideas into cash. They are huge source of information and offer a myriad of advantages. E-books that are well written and focused often sell very well when they are marketed correctly.

The best reason to write your own ebook is that you can promote all your other products along with your ebook. Other advantages of writing an ebook are:
Low cost - high margin. Publish your own knowledge without hiring an outside writer.
Get published faster and easier. Several free and paid outlets available on the Internet.
Can be enhanced with multimedia (i.e. video, sound, images). Create interactive tutorials.
Varied packaging and distribution including pdf's, .doc, CD's, print, video, etc.)
More readily available - easy to download from the internet. Set up instant access through Amazon or PayPal.
Learn how to write, promote, publish and market your own ebook. Get Ebook Marketing ebook to become a master ebook creator. Check out this 170 page tutorial packed with high quality information.
Here's how you can get inside an ebook marketing wizard's 'Top Secret' files and use my best strategies for creating money-making ebooks and pumping them out in record time.
It's easy to make money producing ebooks about subjects you already know and love, once you know these secrets.
Ebook Writing Chapters Include:
Turning your ideas into steady streams of cash flow.
Key aspects of designing an eBook
Creating a killer mini-site designed to sell.
Marketing and distributing your eBooks.
Setting up affiliate programs.
Final thoughts
eBook Marketing Revealed - How to write, publish and promote your own profitable eBook. This 180 page eCourse will teach you every aspect of Ebook writing.
It's Now Easy To Do Ebook Writing And Create & Sell eBooks Than Ever Before!
This is great news for you, because you can take advantage of all my hard work! Get all my secrets for launching an ebook writing campaign that turns your knowledge into cash.
Find out how Ebook Marketing Revealed can be yours for Only $9.97
Ebook Marketing Revealed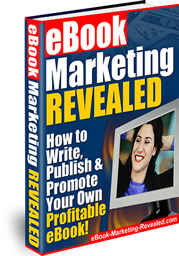 YES!
I want this exclusive eBook entitled "eBook Marketing Revealed - How to Write, Publish, and Promote your Own Profitable eBook."
Limited Time Only $9.97

PayPal
Don't Miss Out On This Incredible Offer
Immediately following payment you will be taken to the download page.

Best Website Tools, LLC By
Timothy Koen
61 W. Annabelle Ave. Hazel Park,
MI. 48030-1103, U.S.A.
telephone: (248)546-0374
email: support@best-website-tools.com
© Copyright 2007-2023 All rights Reserved.
Business Hours:
Sun: closed
Mon-Fri: 9:00AM to 7PM
Sat: 9AM-12:00PM
Closed Holidays