Once again Tool Time is in the process of changing templates. As technology and Internet activity advances it is smart to stay with new trends. With the proliferation of CSS I thought it would be good to demonstrate how easily CSS fits into the Easy Blogs software.

The template that you are looking at is called "3-column-css-sbi" and is available with the SBI Rss Tutorial. It was developed for the new blog SBI Rss Blog. That blog describes how to use Solo Build It properly.

.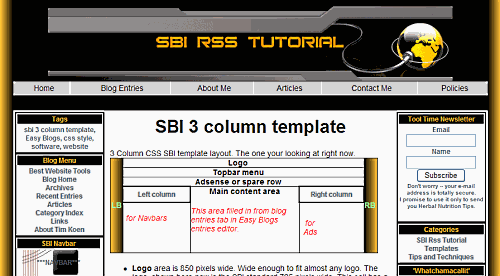 3 Column Css Template
More navigation has been added to this template. Notice on the left side is a new menu section for "articles". On the right side is a new section called "Categories".
Easy Blogs software makes it easy to swap templates. With a few clicks you can add or change template. The software will automatically convert all your pages.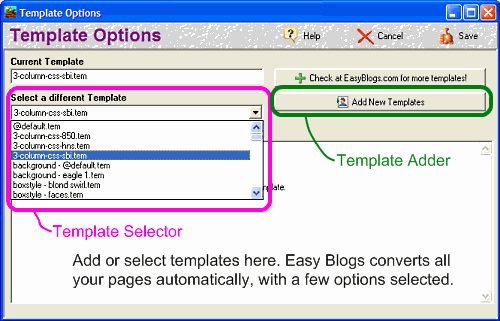 Please stand by while I test the new 3 column CSS template....ok done!
With Easy Blogs software you can test every single page before you load it up to the net. But you don't have to! Since all the pages are generated from between 2 and 6 sub-templates you only need to sample test that many pages. Easy Blogs interfaces with your current browser to display webpages directly onto your monitor.

Learn how to put a 3 Column CSS Template on your website.