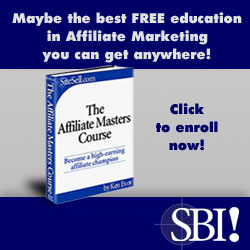 Been going over my Affiliate Master Course again. This 152 page course is packed with the right info on affiliate marketing. Lots of excellent methods and tips on what to do and what not to do.

I was real surprised that some of the things I was doing are exactly the wrong thing to do. Don't make these mistakes yourself, read the course.

The Affiliate Masters Course is a 10 day ecourse detailing how to build an affiliate marketing program with high a conversion rate (CR).

Day 1 Key learning points Always consider how these actions affect your visitor's mindset... 1) HOW YOU REACH your visitor, and 2) WHAT YOU SAY to her, and 3) HOW YOU REFER her to your merchant. 4) Why does PREselling work so well? A sale via any affiliate program is really a two-step process. It requires the delivery of two Most Wanted Responses, yours and your merchant's. As an affiliate, what is your Most Wanted Response (MWR)? No, it's not to get the sale. That's the second step and it's also your merchant's MWR. Your MWR is to get the open-to-buy click (i.e., your visitor clicks through to your merchant with an open-to-buy mindset).

Day 2 Key learnig points.
Prepare don't repair and find your passion. This is where I'm going to leave off. I don't want to spoil it for you. Get this coarse for yourself it's free. Affiliate Masters Course. Opens a .pdf. or save it to your desktop.