FW Fixed Width Blog
Fixed width blog is intended to be a demo of Easy Blogs using AJ's 3 column css template for SBI website. These two were made for each other. See how easy it is to create your own dedicated blog. Easy Blogs Software creates and updates automatically. Simply add blog posts and articles to your website.

Easy Blogs is sophisticated software with a powerful content/management system (CMS) that feeds the 'www' and save's you time. Ideal for those people that like to upload their pages at a more convenient time. Easy Blogs Tutorial will show you how to put a CMS/blog launch platform on your website, and dominate the search engines!

Time Marches On
July 4, 2009 14:47

As with many 'hot' technologies they soon fade and become obsolete, such is the case with this blog. At the time of it's creation the hottest thing on the market was AJ's fixed width CSS template. I had an idea to convert it to Easy Blogs and this blog is the result. Many thanks to AJ for his kind donation.

Since that time, about 10 months ago, many things have changed. For instance this fixed width template is no longer the latest technology. Those honors go to the new SBI Css driven template. So to keep up with the latest trends Best Website Tools has created a new blog SBI Rss Blog And retired this one.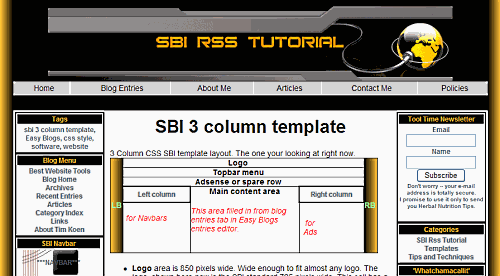 As with many cutting edge technologies time marches on. What was old yesterday becomes an idea for a new tomorrow. Such is the case with FW Fixed Width Blog.
Signing off and on to new things... (Go to URL)
If you need a replacement template, like this one please contact me. Tim
Fluid Width Template
February 15, 2009 12:23
Update: AJ's fluid width Easy Blogs template is now available. Fill your screen with content, fill in that blank space on the sides. This new template is CSS driven table format for Easy Blogs. Max width is 1050px to fit most wide screen monitors. Works in all browsers including Internet Explorer.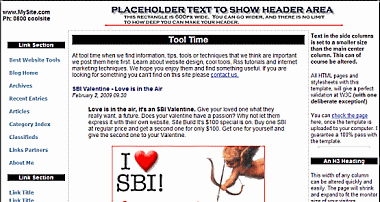 You will need to own AJ's fluid width template package to get the CSS file that make it work. It will plug right in to your existing template and take on all the same attributes from your current css files. You will need to update the template with your own look and feel. Complete instructions and pictorials in the Easy Blogs Tutorial.
BWT combined AJ's 3 column fluid width template with Easy Blogs template system. Now you can have a full width website with all the blog integration of Easy Blogs. (Go to URL)
FW EasyBlogs Features and Advantages
September 23, 2008 17:04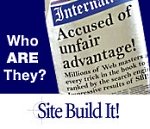 Look closely around this blog and notice all the cool Easy Blogs features like "Archives" "Articles" and "Categories." When you post a new blog or article it is automatically added to your selected category and archived in the current month or week (selectable).
The software makes it easy to update up to 4 pages at once. These pages are expandable too. When you add another post all the pages are updated for you, no extra steps are needed.
When you set up your blog initially you are asked a series of questions that determine how your blog creates and publishes the pages. Oh! want to change it later - No Problem. You also get a content management system with "Options" that controls everything about your blog. Simply... (Read Article)
---sidebar---
This sidebar is another one of the many fw EasyBlogs features where you can add your own thoughts and information. It is an easy way to include links to your products or affiliate links.
Welcome to Easy Blogs
September 21, 2008 11:28
the image to the left, uses a class in the image tag called image-left. Look closely at the code to see how it has been used.
See how the css file controls the layout and placement of pictures and content. That is exactly what you get with SBI-Fixed-Width-EasyBlogs template. All the advantages of an EasyBlog template and controlled by AJ's css file. Including, well SBI includes and all that capability.
SBI Fixed Width Template
As you can see this page looks very much like the sample page that comes with AJ's 3 column template. We simply replaced the gibberish with real text. We did this to show you how easy it is.
the image to the right, uses a class in the image tag called image-right. Look closely at the code to see how it has been used.
The center column is comprised of CSS tags containing content, information, blog entries and navigation links. AJ's 3 column fixed width template, with a few modifications. Specifically we added the Easy Blogs navigation and fuctionality to it.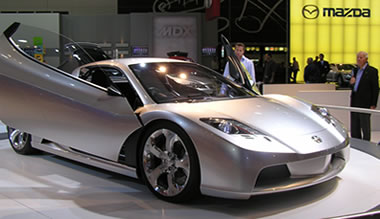 The image above is 380px wide. DO NOT put anything wider than 410px in the column, or you will skew the template.
You could go possibly as wide as 420px, IF you choose not to use the image class in the img src tag, which has a border and some padding.

If you use Upload your own html (UYOH) you will love EasyBlogs. This software comes with it's own html editor and is simple to master. Once your all set up, blogging is as simple as write, format, preview, publish. EasyBlogs then catagorizes, archives and announces your new post automatically. All you need to do is re-upload the affected pages. For more information see the SBI-Rss-Tutorial. (Go to URL)

---sidebar---
Warning, this blog may change at any moment It is suceptable to updating with enthusiasm! It is a blog, after all. So, please take a moment to read between the lines before I change them.