FW EasyBlogs Features and Advantages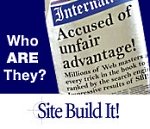 Look closely around this blog and notice all the cool features like "Archives" "Articles" and "Categoties." When you post a new blog or article it is automatically added to your selected category and archived in the current month or week (selectable).
The software makes this easy to create up to 4 pages at once. These pages are expandable too. When you add another post all the pages are updated for you, no extra steps are needed.
When you set up your blog initially you are asked a series of questions that determine how your blog creates and publishes your pages. Oh! want to change it later - No Problem. You also get a content management system with "Options" that controls everything about your blog.
By being resident on your hard drive means you can write blogs from anywhere and post them when you can get online. Ideal for those that like to work offline and load their blog posts at a later time.
Resident software advantages
One time purchase - no need to pay recurring fees for hosting or access privleges
Create multiple blogs - without paying extra. Make as many blogs as you want
Create back-up files - and keep them on your favorite media e.g. hard drive usb stick, or CD, so you never have to lose your work
Add, delete or modify your posts - whenever you want. No need to contact support to remove or change a post.
EasyBlogs is feature packed. Simple enough to use for the non-technical yet powerful enough to please the discerning technical types. EB allows you to create blog posts, article pages, archive pages, category pages, static pages, hidden pages, home page, recent entry page, even free format pages. That is way more than any service provides.
FW EasyBlogs Features
Create multiple categories - can increase the size of your website by 30%. Also, categories are more inviting to the search engines.
Multiple templates- match your look and feel of your website or change it. Most SBI templates are available including this fixed width CSS template that you are looking at.
Basic entry, meta tags, sidebars, and custom fields make up the content editable portion of your posts.
Add pictures, hyperlinks and support files with ease. Html code is generated for you, simply point and click.
EasyBlogs comes with it's own sophisticated html editor built right in. It is easy to format your content for Bold, italic, underlined, size and colored text. Add numbered lists and bullet points with ease. Create your own tables with the built in table maker. Add paragraphs, line breaks and horizontal lines at the click of a button.
---
Template Packager
Want to create your own template or make money creating templates for your customers? With the template packager you can start from scratch or use one of the many supplied templates. For SBIers you can get a pre-made template with the SBI-Rss-Tutorial that matches your look and feel.
This is where you add or modify your blog template. Incorporate Google AdSense or any other advertisements or affiliate promotions. Each type of page can have it's own look and feel. You may want to put AdSense on your article pages but not on your sales pages. Or perhaps you want to delete the menu navigation from the bottom of your home page.
Building and publishing your own blog the way you want it, and having all the advantages of it being right, is exciting. The SBI Rss Tutorial package will teach you how to put a dedicated news blog on your website, update it on a regular basis and create the all important XML file that will publish your daily blog across the web. Learn more about SBI-Rss-Tutorials for EasyBlogs...
(Go to URL)
---sidebar---
This sidebar is another one of the many fw EasyBlogs features where you can add your own thoughts and information. It is an easy way to include links to your products or affiliate links.
To reference this entry please copy the url in this link: (Permalink),