Thank You For Your Investment In
Website Conversion Secrets
As you'll need Winzip and Adobe reader to access your products, download them free through the following links if you don't have them installed:
Download "Website Conversion Secrets" with Master Resale Rights worth $197 here:
Please right click on the below link and choose "save target as..." to download your package. Complete instructions and the bonus can be found within the zip file:
= Download here =
WAIT Get the Bonus eBook too...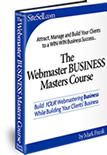 Webmaster Business Masters Course a ten day course on how to start your own website design service.
This is the same course Best Website Tools used to start our business. I highly recommend this ebook for it's insight and novel ideas.
Feel free to contact me if you need any help or have not been able to download your package successfully.
Thanks,
Tim Koen
eLearning, eCommerce, eSuccess - Site Build It!



Affiliate Program | Home | Contact us | Spider Map | Policies | Website Packages