April 2012

SBI Block Builder 2 - BB2 Launches Best Website Tools of the Future -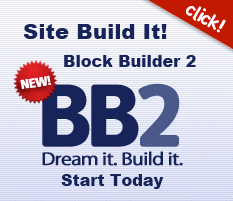 All new Site Built It Block builder 2 (SBI BB2) is going to revoltionize online business. With the release of this new website builder all other builders are now way behind the leader, again.

All new drag and drop interface makes website design simpler and more powerfull than ever. SBI BB2. If you are considering upgrading or starting your own online business you have to check this out. Easy to follow instructions guide you through the website/online business building process. A complete set of tools accompany the website builder. Making SBI BB2 the leader and way ahead of the competition and all for one low price.

Update: SBI Block Builder 2 - (SBI BB2) Launches Best Website Tools of the Future. Take a look...

November 2010

SBI Urban Myths, Site Build It Website Business Tools -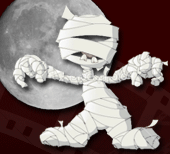 SBI Urban Myths, it's free, it's ugly, it doesn't work and more. Urban myths are legends that are believed by the teller, suggest neither truth or falsehood and are presented as tales of modern folklore.
Following is a list of myths we've heard about Site Build It! (SBI) over the years. I have provided a short answer, detailed responses are on the next page.
Everybody's blogging, why shouldn't I?
With a few exceptions most blogs do not build a business. Some blogs are cheap, even free, but rarely come with a how-to manual for online success. SBI does, and gave it a name, the C-T-P-M process.
SBI is only for newbies.
SBI is ideal for Internet beginners. Also ideal for tech-savvy experienced webmasters looking for all the tools at one low price.
Read the rest of the myths and our answers... SBI Urban Myths
August 2010

SBI Transition Templates - 3 Column Website Design - The new 3 column css driven sbi transition templates not only improve your website's look and feel but can increase the time visitors spend on your site, page load speed and the amount of space on your website. Over 450 recently released template designs are now available.
Improve the look and feel of your website. The new sbi transition templates are faster cleaner and bigger than ever before. Learn how transitioning to one of these templates can improve your traffic, page ranking and bottom line...
SBI Css Templates - The new css templates have arrived at Site Build It. With 120 to choose from in 10 different categories there is something for every niche.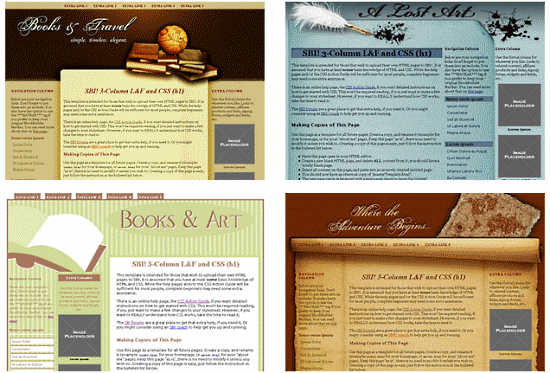 Here at Best Website Tools we have converted these templates into Easy Blogs format. The marriage of these two technologies gives you ultimate control over your website. Imagine being able to create up to 200 mini-websites or blogs all under one domain name.
Now you can have complete control of your website through the use of style sheets and server side include files. Easily modify, add or create new or existing websites with Easy Blogs.
The new sbi css templates are simple yet sophisticated. Especially in combination with Easy Blogs. Now you get to have your style sheets and html templates in a platform that can modify every page on your website lickity split. No kidding...
May 2010

SBI Tools Build a Traffic Generating Web Business -

Everything is all in Site Build It! All the tools, all in one place.
From researching raw, pre-website ideas to earning income from your site in five (or ten!) different ways, every tool, every strategy, every step is in SBI!. In short...
Comparing SBI! to any other "sitebuilder" like Dreamweaver or WordPress, is like comparing a fully tooled construction crew to a man with a hammer. As you will see, "everything" means "everything"...
February 2010

SBI 2 Template for Easy Blogs -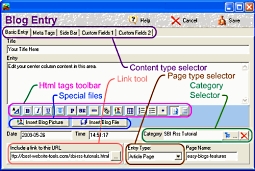 Easy Blogs - Blog Entry Editor

SBI2 template for Easy Blogs. This is a generic template for all SBI transition templates. I used my own style.css and images to make the template look good, and added the Easy Blogs menu system.
SBI 2 template for Easy Blogs uses style.css file to create a 3 column design.
Plug and play Easy Blogs templates for home page, default, hidden, static and article pages.
Easy Blogs (EB) is a powerful website building software set up in blog format. The unique HTML editor is easy enough for the beginner and sophisticated enough for the technically advanced. EB creates that all important xml file you need to syndicate your blog. Follow the link to see the generic template. Read Full Article

October 2009

SBI 2 point 0 Visitors Build Online Business Website for You! -
SBI 2 point 0 takes online business building to a whole new level. Yes, there are easier ways to build a website. However, online profits require more than just having a collection of Web pages. SBI! includes all the tools and a proven process required to build a long-term, profitable e-business.
You get more than just a "site builder." You don't need to worry about looking for separate hosting, paying for a separate keyword research tool, handling site submissions, integrating autoresponders, etc., etc. See the full list of features here
SBI 2.0! is the only product that takes the time to prepare you to build a profitable business, before you jump into building your site. For the beginner, your learning curve will be shorter and you'll bypass any show-stopping errors. For those experienced in site-building, SBI! deepens your level of understanding. No matter who you are, you are guided all the way until you succeed.
September 2009

SBI New Template Website Design Site Build It Color Theme - The concept is simple, use your team colors to create the new css template, then populate the content with images that contain those colors. Here is my first entry in the new Site Build It iDesign3 contest. This new css template tried to show how easy it is to design a website template based on a 2 color theme.
The intended innuendo is that any 2 colors could be used. Specifically colors associated with a sports team, corporate image or marketing theme. Following is a screenshot of a racing team colors based template.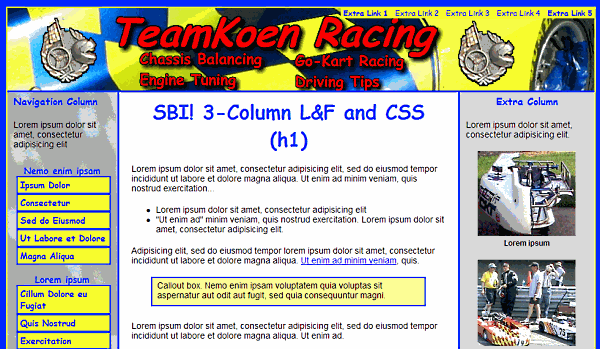 TeamKoen Racing new css template
Continue reading to see the rest of the new css template and how I determined what the design elements are...
August 2009

Easy Blogs SBI Advanced Options - The Easy Blogs (EB) advanced options can dramatically increase the content on your website and number of pages. The following tutorial will show you how to get the most from EB.
To get to the 'Advanced Options' you must first open a blog in the software. After you open a blog you will see the main page. This is where you get to all the sections in the software. First Select "Options' then this screen should be showing.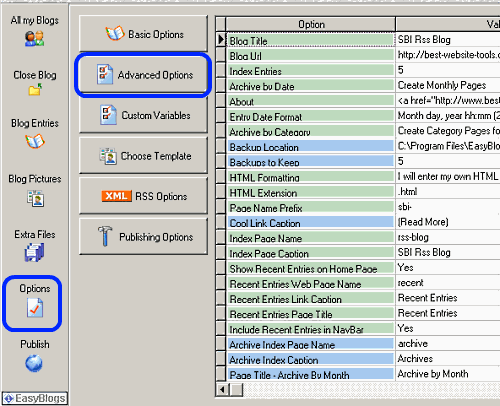 Next select "Advanced Option". This screen will show. Let's take a look at each of the selections in Advanced Options to see what they all do.
Formatting of Entries - has 2 options Read Full Article
June 2009

SBI Rss Proof - Google Results in 30 days. - SBI Rss Proof this blog launch platform gets results in Google fast? This blog launched on 28 May, 2009. The screenshot below was taken on 30 June 2009. In one month this blog has passed 1,249,999 other similar pages in the search engine Google.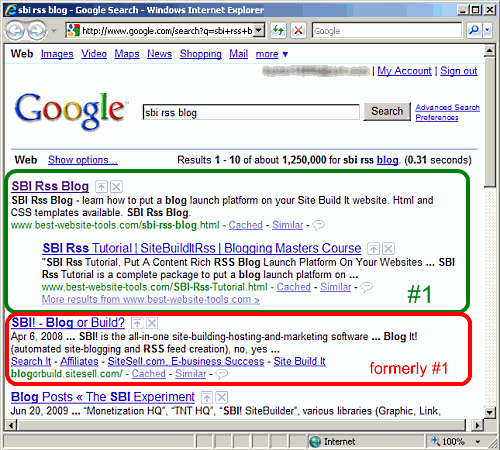 Here's how I did it:
May 2009

SBI EasyBlogs Template Packager - The SBI EasyBlog template packager is where you create and store templates. Each template has 6 sub-templates for each of the different types of pages you can create on your website/blog. The templates that come with the Tutorial are all configured to plug right into your SBI website.

Read Full Article


SBI Blog Launch Platform -
Put an SBI Blog Launch Platform on your website and watch your search engine rankings soar, literally. With Easy Blogs and SBI you can get in on the RSS rocket that is blogging.

Easy Blogs is more than just a blog creator it's a website builder. Learn how you can create blogs, build websites and launch them to the world wide web. Find out why it's called the SBI Blog Launch Platform. Read Full Article
SBI EasyBlogs Features -
SBI EasyBlogs features give you the power to integrate a full blown blog right into your website. How about 100 blogs? Built in content management system and template packager give you the power to create complete websites, mini-websites, blogs and articles.
SBI EasyBlogs features page gives a summary of the more important features. You get insight into the power of combining Easy Blogs with Site Build It! Read Full Article

SBI Rss Adventure - Building and publishing your own blog the way you want it, and having all the advantages of it being right, is exciting. This SBI Rss Tutorial package will teach you how to put a blog launch platform on your site, update it on a regular basis and create the all important XML file that will publish your daily blog across the web. Read Full Article
SBI 3 Column Template for Easy Blogs - This template is table based 3 column CSS driven. With the use of styling we can define the look and feel to match any SBI website.
Read Full Article
: SBI Rss Blog learn how to put an easyblogs launch platform on your SBI website. Html and CSS templates available. Article Index