eWriter Pro

Professional pdf compiler creates stunning ebooks.
eWriter Pro an EASY Way To Publish Stunning PDF Files,
And save a Lot of Time and Money
Step 1. Use eWriter Pro to write your ebook or copy & paste from your favorite text editor.
Step 2. Insert Your Graphics, Links, etc.
Step 3. Click the PDF icon.

Presto - Your Ebook is Ready.
Dear Publisher,
As you know, PDF is the format of choice for ebook authors and developers around the world. That's not surprising. Surveys show that PDF is preferred by an ever-growing majority of ebook readers.
And it's easy to see why PDF Ebooks are so popular...
They can be read on just about every computer in the world.

They are easy on the eye, because they recreate the look of a printed page.

PDF ebooks always display correctly on the reader's computer because fonts, graphics, special characters, and so on are all embedded into the original PDF file.
PDFs are easy to print out and always give a reliable reproduction of the original document.
They can contain links within the book as well as links to websites.
PDFs are very secure.
In short, when it comes to electronic publishing, PDF is where it's at.
Until recently the only software available was Adobe Acrobat PDF Writer.
At a retail price of $499 it is too expensive to most people. On top of that, it's far too complicated to use. The same is true of most of the other PDF programs on the market. To put it briefly, getting your written work into PDF format remains a major headache for most average users.
Not any more!
"Now You Can Create Stunning PDF Files in an Instant - With low cost Software!"
Five minutes from now you can start transforming any of your documents - text, images, web pages, or whatever else you want - into universally readable PDF files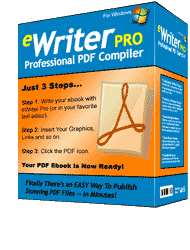 Introducing eWriter Pro...
This software is so easy to use, you probably won't even bother to read the help files!
If you can type an email you can publish your own content rich PDF ebooks in just minutes.
Some of the Features You'll Enjoy with eWriter Pro are...
You can:
Create your content directly inside the software or copy and paste it in from your favorite text editor (like MS Word).
Include active hyperlinks to websites or email.
Password-protect your PDF document.
Disable the copy/paste function to prevent theft of your work.
Disable the print function.
Easily insert pictures etc. into your PDF.
Include page breaks to make your PDF easy to lay out and navigate.
Automatically add page numbers and footers to your ebooks.
Manage, store and categorize all your ebooks, articles and works-in-progress from inside the software.
Create an unlimited number of full-featured PDF files. No restrictions, no royalties, no 3rd-party ads.
And more...
In short, You'll Have Full Control Over
Every Aspect of Your PDF Ebooks.
And you'll be amazed at how EASY it is to work with eWriter Pro. Everything about this software is geared towards convenience.
Here's a look at one of the panels inside eWriter Pro:

Note the easy layout and the modern look.
Its easy as pie to insert images, footers, page breaks, page numbers, text
frames -- EVEN Hyperlinks!
Once you're done writing your ebook, just hit the PDF icon to instantly turn it into a downloadable PDF file!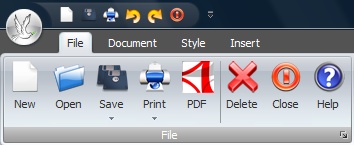 You'll also have the functionality to secure your ebooks. The screenshot below is of a panel that permits you to add a password as well as enable or disable printing, copying etc.
Get Started Making Your Own Ebooks!
This is such a nice piece of software, it's worth having even if you're already an ebook professional.
Its more than a cool tool!
And, if you haven't already started publishing your own ebooks, then this is the only software you'll need to create downloadable PDF ebooks -- instantly.
And don't forget, ebooks aren't just about making sales. They can also be an excellent promotional tool. Just create a PDF that provides useful information aimed at your target market -- and containing your URL -- and, hey presto!, you've got an instant advertising tool.
There's no steep learning curve -- Anyone can use this software!
And, just to be on the safe side, complete instructions are included. Here's a screenshot of the user manual (which was created with eWriter Pro):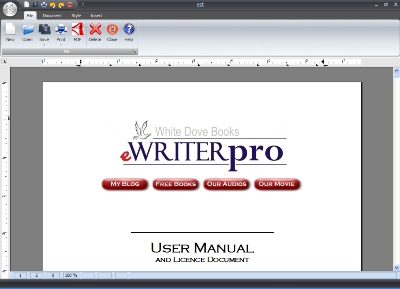 But wait! There's more...
Order Now and Get MASTER RESALE RIGHTS
That's right, you'll own master resell rights to this excellent product! You can resell it from your own website and keep 100% of the profits. All it takes is one sale, and you've made your investment back! Everything after that is pure profit, straight into your bank account.
And you'll even get a professionally designed web site and sales letter - including graphics. All you have to do is upload the files to your website, and start making sales.
Okay, so how much is all this going to cost?
If you guessed something like $97 or $67 maybe just $47.
Well, you might be right tomorrow...
If you order today, you can secure instant ownership of this fantastic software (including master resale rights) and 5 bonus how-to ebooks for just $4.97
That means you can start publishing high-quality PDF ebooks just minutes from now for about the price of a hot dog!
And, just in case you're not convinced that this is really terrific value for money, I'm going to let you try it out completely risk-free...

Your Investment is Backed by My 100% GUARANTEE of Satisfaction
Yes, you can order the eWriter Pro in complete confidence.
You can download the software and give it a thorough test-drive. You've got a full 2 months to make up your mind if this was the right investment.
And, if you decide it's not for you, no problem. Just let me know and I'll issue a prompt and courteous refund - no questions and no quibbles.
AND you can still keep the software itself! With a solid guarantee like that, you've literally got nothing to lose and everything to gain.
So, don't put it off. Grab your copy right now, and judge for yourself just how valuable this package is.

Download eWriter Pro with Master Resale Rights For Only $4.97
(Windows XP or Vista)

I understand that I'm protected by a full 60-day money-back guarantee.

I understand that I can download the package immediately after ordering.

Resale Rights Terms
[YES] Can sell Master Resale Rights.
[YES] Includes professional sales letter.
[YES] Can be packaged.
[YES] Can be added to a paid membership site.
[YES] Can be offered as a bonus.
[NO] Can be given away for free.
[NO] Can be added to giveaway sites.
[NO] Includes private Label Rights.

Click Below to Order for Only $4.97




INSTANT ACCESS

Don't Miss Out On This Incredible Offer
Out Of Stock
If you're thinking about publishing your own ebooks, then eWriter Pro is all you need to get up and running in no time.
You can literally create your first PDF ebook just minutes from now with the greatest of ease!
And don't forget, you've got a full 2 months to decide if this is the right investment for you.
AND, of course, you also get Master Resale Rights.
So go ahead, and download eWriter Pro now -- and start creating professional PDF ebooks within minutes.
You'll gain immediate access to the download page - even if it's two o'clock in the morning!
To Your Success
Timothy Koen
---
P.S.
Here's What People Are Saying about eWriter Pro...
"eWriter Pro is great for writing articles and ebooks, but what I like most is how it keeps everything organized in one place. I can sort by niche or category which is handy when you've got a bunch of different projects going. The backup feature is pretty good too."

Jeff Hiebert


---

At last! A simple tool that makes creating ebooks easy! Instead of fighting behemoth software with arcane commands doing who knows what (that suddenly screw up what you were doing when you accidentally hit the wrong key) -- you can create an ebook practically in the time it takes you to launch the help file of other programs.

"Add the utility of the ebook & article buttons and easy-to-find and use backup problems with a reminder - this has got to be darn close to ideal for rapid turn around of articles and ebooks."
Judy Kettenhofen
---
"Adding text boxes and pictures couldn't be easier. I like being able to pick up just about any format and convert it to a clean looking PDF.
I have used a lot of PDF conversion programs, even some of the free programs but somehow you always loose the formatting. With eWriter Pro its simple and quick. I also love that the software keeps all of your source non PDF files in an archive to reopen and edit quickly.

Jonathan McGuire
---
See Also: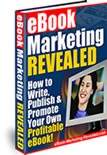 Ebook Marketing Revealed - The Top-Secret Files Of An Ebook Marketing Wizard. 'Steal' Her Very Best Strategies For Pumping Out profitable eBooks In Record Time! Dear Internet Friend, are you  interested in ebook writing, publishing and marketing?
Without having to spend a lot of money and effort to get it done?
Then this is the most important letter you'll ever read.
My Article Submitter - the ultimate internet marketing tool to generate traffic.
Click Here To Bookmark eWriter pro | Website Services
Home | Contact us | Spider Map | Policies