Home Based Website Design Business

Start-Up Tools and information
You have decided to start your own Website Design Business.
But are not sure where to begin. While most large businesses have been on the web for many years, many small businesses are just beginning their online presence. This is where you come in and offer your expertise and services. You wonder if there is room for one more web building business. The answer is a resounding yes.
3 good reasons to read this ebook, even if you already have a home based business:
Start Your Own Home Based Web Design Business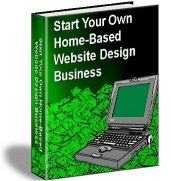 Has all the information and tools you will need to help you get started and run an internet business. You get business plans, design contracts, tips for finding clients and information about managing your time.
This easy reading 132 page e-book explains a-z what you need to know about starting and owning a website design business. Included is everything you need to get started from developing your own website to dealing with clients and setting schedules. It's all there, have a look at this:
Table of Contents
SECTION 1 - GETTING STARTED

Chapter 1 - You Can Do This
Chapter 2 - Making It Official
Chapter 3 - Writing Your Business Plan
Chapter 4 - Funding Your Business
Chapter 5 - Setting Up Your Office



SECTION 2 - GETTING WORK

Chapter 6 - Understanding Your Market
Chapter 7 - Setting Your Rates
Chapter 8 - Attracting Clients
Chapter 9 - Additional Services



SECTION 3 - MANAGING THE WORK

Chapter 10 - Your Project Notebook
Chapter 11 - Managing The Job
Chapter 12 - Managing The Design
Chapter 13 - Essential Resources
Chapter 14 - Subcontracting
Chapter 15 - Dealing With Clients
Chapter 16 - Getting Paid



SECTION 4 - YOUR BUSINESS SITE

Chapter 17 - Developing Your Own Site
Chapter 18 - Developing Your Portfolio
Chapter 19 - Webmaster Resources



APPENDIX

Website Design Business Plan
Website Design Proposal
Website Design Contract
Contract Amendment
Mini-Contract
Subcontract Agreement
Invoice
Website Summary Sheet
Time Sheet
Storyboard Template
Website Design Worksheet
Only $24.95


Key Benefits:
Find out what office tools are essential and which are not.
Learn who your target market is and how to market to them effectively.
Identify your market segment and set your rates and advertising accordingly.
Learn to focus your services around the clients needs and set your rates accordingly.
Learn how to create a steady income without pricing yourself out of the market.
Learn the #1 secret of effective marketing.
Learn the most effective ways to promote your website design business.
Find out what additional skills you may have and how to promote them and generate additional income.
Learn the 17 steps to managing the business side of a website design business - from the client's request for quote to website delivery and follow up.
Find out what the most important questions to ask a new client and how move the design process move along without any problems.
Learn the 9 steps that you should use when designing a website, and why you shouldn't skip any of them.
Learn how to save money by using subcontractors while expanding your services at the same time.
Learn to how identify the different types of clients and work with them effectively.
Learn about the most common problems you will encounter as a professional designer and how to deal with them effectively.
Includes tips to get your portfolio off to a good start for developing your website business.
Get a complete Website Design Contract - worth well over $1,000.
What You Get
Only $24.95


Package Includes...
Start Your Own Home Based Website Design Business (PDF format. 132 pages)
Electronic versions of the tools you need to make your website business successful
(Forms, contracts and documents in .doc & .txt formats)
Website Design Business Plan
Website Proposal
Website Contract
Contract Amendment Letter
Mini-Contract
Subcontract Agreement
Invoice
Website Summary Sheet
Time Sheet
Storyboard Template
Website Design Worksheet
---Bonus---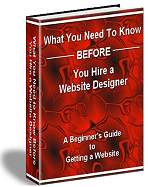 Your Free Report - What You Need to Know Before You Hire a Website Designer
You Also Get My Personal MONEY BACK GUARANTEE... If you aren't totally delighted with your order, let me know within eight weeks and I will personally refund your entire payment.
Get Your Website Design Business Started
All files have been scanned by Norton AntiVirus® and are guaranteed virus free.
Start Your Own Home Based Website Design Business and What You Need to Know Before You Hire a Website Designer e-books are available in PDF format. You will need the Adobe Acrobat Reader 4.0 or higher to read these e-books. Get Acrobat Reader for free by visiting Acrobat Reader
Custom Search




Home | Contact us | Spider Map | Policies | Website Packages | Affiliate Program
Tim Koen, 61 W. Annabelle, Hazel Park, MI. U.S.A 48030