Thank You For Your Investment In
"SBI-Rss-Tutorial"
Note - DO NOT navigate away from this page until you have downloaded the SBI Rss Tutorial ebook, Easy Blogs, RSS Announcer and the rssannouncetutorial-ebook.
Then go to the template section to download your template.
You will need Adobe reader to access your products, download them free through the following link if you don't have them installed: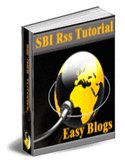 "SBI Rss Tutorials"
Please right click on the below link and choose "save target as..." to download your package.
A file dialog box will appear that gives you 3 options "Run" "Save" and "Cancel" Select "Save"
Use one of the many included templates or build your own blog. Templates are designed to be sharable with other Easy Blogs users. Store your Blog on your PC. Publish anywhere!
WAIT...
You need to get your template, make sure you get the right one. If you need help use the contact form to let us know. We can determine which template is best for your site.

Free Bonus You also get RSS Announcer with your tutorial. This software makes the blog directory submission process easier. You certainly don't want to research all the different blog services on your own. Download this free application and submit your blog to over 50 directories.
To download right click and select "save target as" then save to your desktop.
You will also want the tutorial to see how to use RSS Announcer. You will need an Adobe reader to view it.
Feel free to contact me if you need any help or have not been able to download your package successfully.
Hope This Helps,
Tim Koen
For future updates follow the blog @