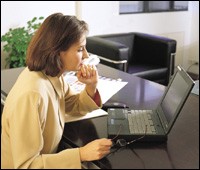 Are you a work at home Mom or Dad? Are you working at home already? Or are you wondering if it's the right way to go in the near future? Are you considering becoming a Work At Home Mom (WAHM)?

Take this important tip from us Based on our experiences of working at home for years, juggling childcare, domestic stuff, kids' schedules, our partners' needs and our own, we all agree that in order to do it successfully, without cracking up, you need just one thing organization. Get organized, and you can conquer the world, or at least stay happily on top of your own little corner of it.

Are you still not sure how it would work for you? We brainstormed some ideas with other work at home moms and pulled together these additional tips to inspire you: Tip # 1 Set up your work space at home. Tip # 2 Make work time. Tip # 3 Secure support from those close to you. Tip # 4 Manage childcare while working. Tip # 5 Take domestic shortcuts to free up valuable time.

Throughout the WAHM-IT! Guide, you'll find quotes from real Site Build It!-owning WAHMs! These nuggets of wisdom and inspiration come from one of the Site Build It! Forums (a friendly gathering place for the SBI! (Site Build It!) community) and the thread about WAHMs that led to this Guide's creation.

Like us, you've probably come across lots of get-rich-quick schemes on the Web, promising you fantastic earnings for little effort. We want to reassure you, that is not what we are about.

In this Guide, we share with you the underlying principles that ensure sites like ours have the potential to succeed. Follow those principles, and you won't go wrong. However, you will have to supply the thinking power and the motivation. It takes work, and time, but the journey is extremely worthwhile. And the beauty of it is, it can fit perfectly into your life as a WAHM.

These tips and more are in the WAHM masters course...